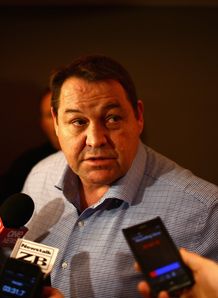 Related links
Teams
New Zealand coach Steve Hansen has said form will outweigh experience when it comes to selecting his squad for next year's Rugby World Cup.
The holders will be expected to have a mature squad when they travel to England, with the likes of Keven Mealamu and Richie McCaw involved.
However, Hansen has stressed that he wouldn't be afraid to wield the axe should younger players make statements for both franchise and country.
"Much as we have a lot of loyalty to the players...we've got a greater loyalty to the team," Hansen told Radio Livesport in an interview.
"You'll make decisions that actually hurt you from an emotional point of view because you're dealing with people that you care about and have a lot of feelings for."
Hansen added that he thought captain McCaw is "probably the greatest player to ever play for the All Blacks" and that the form of his senior players wasn't a concern at the current time. But with Mealamu 35 and others like Dan Carter and Conrad Smith 32, an interesting year awaits for the watching New Zealand public.
"They themselves would tell you if they didn't believe they were playing well enough," he said.
"They'd come to you and say 'I don't believe I should be picked' -- that's the type of people we're talking about."