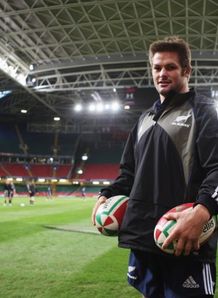 What a weekend! Ireland saved Northern Hemisphere blushes with a heated 17-3 win over Southern Hemisphere rivals Argentina, but apart from that, it was the 'Big Three' who once again took the spoils with the Pacific Islands also playing their part against Italy.
With South Africa rewriting the history books at Twickenham, Wales eyeballing New Zealand following their haka and Welsh Wizard Shane Williams scooping the IRB Player of the Year award - there was plenty to discuss and this is what you had to say about it...
Shane Williams (IRB Player of the Year):
"Not the right man. Lets face facts, there is not a better or more influential player in world rugby than Dan Carter, except perhaps Richie McCaw. How a winger is chosen for this award is beyond me. The very nature of the game dictates that most scores made by a wing are created by the inside backs. That said, obviously there are wings who are more talented than others and Mr Williams is one of the top wings.
"I guess the problem is how do you continually give the award to the same two guys year in and out? Well if you want integrity you simply do it because they are the best. This is typical northern hemisphere BS. The north have the most lucrative leagues, all the money, unfortunately too much influence with the IRB, and only a touch of the best talent.
"Just look at the recent tours of NZ, RSA, and Oz. All wins against the home teams. That is pathetic stuff from the north. No player from there should win this award while their teams are so poor. Lets face it, the Six Nations title is not all that impressive unless they can beat at least one of the southern powers with regularity. This year they were smashed by New Zealand and face watered down South Africa (lost) and a watered down Australia that they will lose to as well.
"Although talented and having a great year there is no way this guy deserves to be placed ahead of Carter or McCaw."
- Mark G
"From those who were shortlisted perhaps Williams deserved it. But obviously any shortlist without Richard the Great (Richie McCaw) is but a hoax."
- Objectively yours from the Land of the Grating War Dance
"I think he only got the award to avoid a white wash for New Zealand. There is more than a good bit of daylight between Williams and Carter."
- Gerry Portegys (NZ)
"You're joking!"
- Michael
"This guy is a fairy. No way should he have ever been chosen. Anybody heard of Victor Matfield or Ruan Pienaar?"
- MJG O'Reilly
"It just goes to show that the British Press have once again blown another player out of all proportion and he has landed himself an award.
"I will admit he has an outstanding attacking game. The problem however, is that people fail to realise that his "D" is nowhere to be seen. The South Africans will do exactly what New Zealand did four years ago in the second Test. They will target Shane Williams and run over him time and again. I hope McGeechan doesn't fall for the trap.
"If there is a god Williams will not even travel."
- Jim
"There must be at least five All Blacks, three Wallabies and three Springboks who must have looked at this and said one word: Take your pick, it could be one of six expletives that came to my mind!"
- Charles
"Shane is a fine rugby player - no doubt, and I have no problems with him receiving the award. I do have a slight issue with the fact that for the second year in a row, a winger has taken the award - wonder what some of my fellow forwards think of this!"
- Steve (NZ)
"Well, lets put it this way, ask any international rugby coach in the world who they would rather have in their team, Shane Williams or Dan Carter and for fun lets throw in Richie McCaw. I'd bet my house Shane Williams would come a very distant third, but I sure as hell wouldn't like to bet on first or second. Case closed."
- ABs fan (Oz)
"Was Shane the right choice, nope Richie McCaw proved once again, against Wales, he's the best in the business. Yes he wasn't nominated, but Dan Carter was also above Shane in the player rankings.
"Oh well, such is life."
- Pamela
The right man to win the IRB Player of the Year is Sergio Parisse. Purely because Shane Williams plays for a better team than Sergio and so the many great plays of the Italy skipper have more importance than others. Last night was a choice missed for the IRB to show to all the world that they look for a global rugby and not only British and SANZAR areas.
- Carlo Alberto Benedetti
Welsh haka:
"So now we know the Welsh have come up with their own version of the haka. One that fits perfectly with their natural rhythmic sensibilities handed down through the generations. They stand still. And then stand still some more. Then the little man with the whistle comes along and tells them to get on with the game and they still stand still. Their next move will be to get the crowd to chant the old Ultravox song. Except that they weren't Welsh.
"Good on them for trying to show they wouldn't be intimidated by the All Blacks. Pity they forgot they still had a game to play. It's not what you do in response to the Haka that proves you're a real man, it's what you do in the 80 minutes after the referee's whistle blows.
"In taking it too far, even ignoring the orders of the ref to get on with the game, they crossed the line from a display of indomitable staunchness to childish bravado. They got what they deserved from the All Blacks."
- Chris James
"First of all I am not a Kiwi but I'm really getting tired of this crap when teams feel they must stand up the haka. Has anybody ever notice of those teams who stand up it, eventually end up getting their arses kicked. OK - can be intimidating but for feck sake we're all grown men. Let the Kiwi's do it, gently applaud it and get on with playing rugby. They are not super-human... France and South Africa have proved that."
- Brian O'Toole
"Clearly not the right move. Just accept the haka and move on. In South Africa the crowd as per usual drowned the haka out and they still lost 19-0. Just move on folks!"
- Mary
"My guess this was Gatland's idea. Seemed to work at first. Wales had the All Blacks on the rack for the first quarter. They just made too many mistakes in the second half and the All Blacks appeared to want the win more.
"Bodes well for Six Nations - good luck Wales."
- Charles
"Making a statement or paralyzed by fear? Good on you Wales."
-Tygue
"In regards to Wales facing down the All Blacks after the haka, it was good theatre but to no avail on the paddock. Some English journalistic hack has suggested we do away with the haka. Well if the English stop playing rubbish rugby and we dish the haka we will do away with two proud traditions.
- Gerry Portegys (NZ)
"When I go to another country, I am a guest in that country. As I am a guest I have to respect the laws of that land, and indeed any local customs. Even if I disagree, I am a guest, and I will be going home.
"To walk into someone else's country and demand respect for a war dance that isn't traditional, is inflammatory and is threatening is taking the biscuit.
"These Kiwis are a precious bunch, I mean if we took our Morris men to New Zealand would they be respected. Its traditional, its not newly made up, would that be respected, of course not.
"We are polite enough to let our guests show us the haka, whether we respect it or not is up to us, if they are so worried that they won't be respected and it means so much, then do it in a changing room.
"If I was in a street and someone mimed slitting my throat, that would be
inflammatory, and I'm sure illegal...So why is it allowed in a game of rugby??
"I've seen police go onto a football field to stop a goalscorer's excessive celebrations, in case it causes a riot, this throat slitting is far worse than any football celebration.
"Maybe that's how we can win the game, send Her Majesty's Constabulary onto the pitch and arrest the NZ team whilst doing their provocative gesture.
"I have enjoyed watching the haka over the years, and how teams have fronted up, there have been some classics, we can't tell NZ how to do the haka, so in the same vein they really should not tell an opposition how to behave. That is the height of bad manners, and very boorish."
- Don Compton
"Does anybody know why over the last year or two there has been such a Hoo-Haa made about the All Blacks renditions of the Haka before Rugby Tests?
"I cannot understand why a traditional part of the All Blacks game which has been performed for approximately a century all of a sudden becomes so controversial.
"Personally, I enjoy watching the Haka. It is an entertaining and stimulating start to the games. Samoa, Tonga and Fiji have their own versions which nobody seems to mind. Australia now performs Waltzing Matilda which nobody seems to mind either.
"Why single out the All Blacks as a team to complain about? Perhaps it is because the All Blacks are the world's top ranked team but if that is the reason, I don't think the whingeing is justified.
"I freely admit that the Haka is a great psychological stimulant for the All Black players. It gets them pumped up and gets the adrenaline flowing but that is part of what it is meant to do. That is why the Maori warriors performed Hakas before going into battle. The other part is to demonstrate and share a part of New Zealand's culture and heritage which I have to say, all New Zealanders regardless of ethnicity, are extremely proud of.
"Instead of moaning about the Haka, why don't other teams implement their own traditional stimulants. I'm sure we'd all love to see the England team perform a Morris Dance before the start of a Rugby Test."
- Brian Dalton (Ex Oxfordshire, Now Nelson NZ)
"I am stunned by the opinions that All Blacks have about the behavior of the Wales Team by standing up to the Haka. Ma'a Nonu claimed that the Welsh disrespected the Haka by standing up to them. This shows their(All Blacks) lack of knowledge about the true meaning of the Haka. I remembered Peter Fatialofa leading the Manu Samoa Moa(Haka in Samoa) while the All Blacks did the Haka and they(Samoan) were called disrespecting the Haka. The same thing happened when Tonga played the All Blacks in previous years. Watch Tonga and Samoa play, they know the spirit and true meaning of the Haka( war dance). Did they call on each other disrespect for performing their respective war dance at the same time?..... NO.... so come on All Blacks try and know your roots. I am a Polynesia and its sad to hear it from one of my own (Nonu) calling staring at the Haka disrespect."
Teivovo, Sipitau, Moa, Haka
- Die Hard Polynesian
Danny Cipriani:
"He is the real deal but there are two issues as I see it.
"Being a medical man and one who has been involved with rugby at all levels I feel that he has been fast tracked back to international level way too quickly. His injury was severe in the extreme, a fracture dislocation of the ankle is not only career threatening but can actually be limb threatening. This is no joke. Sometimes they have to take the ankle and foot off. Chop off. Amputate. Is there a clearer way to put this?
"The problem with any serious injury is not so much the muscles and bone healing which is relatively quick but the re-integration of the nerves and the muscles which gives the player the sense of where he and his foot are in space, something we medics and physio's call proprioception. This takes months and months of rehab and exercises and is essential to regaining form and ability. There is no way Danny can be the player he was at this stage because it is physically impossible given the time frame post injury. Proprioception is key to positional sense when kicking and timing. Does this ring any bells with anybody? charge downs being caused by??
He may never regain his previous abilities but hopefully will learn to compensate by strengthening other area's of his game. I have seen more than one player never fully recover from this injury and others who have gone on to be better players than before.
"The other issue is the mental effect of such an injury, the effect on confidence - the thing that always struck me about Danny pre-injury was the overwhelming confidence and exuberance with which he played, that is no longer present. He looked indecisive and scared on Saturday and needs an extended period of second team club games to regain confidence and build proprioception. Flinging him into the harsh reality of International rugby against the three best sides in the world is stupid and could do him serious mental and physical damage.
"I say drop him for his own sake, he is the real deal but needs time to heal properly."
The Bodge
"Cipriani is a world class talent of that I have no doubt. But like so many potential English world beaters before him has had the world placed on his shoulders too quickly. Look at Wilkinson, who was on the "Tour from Hell" and played in that 76-0 defeat to Australia then a few years later was the best fly-half in living memory. England's problems lie a lot deeper than Cipriani.
"England have always relied on the strength of their pack the new ELVs negate that and force a team to be more creative and that is something that an England team hasn't been for a long time. The main problem is that England are devoid of a leader and apparently a game plan... Borthwick has done nothing to justify his selection let alone being named captain, but then you have to look around and there are few others that could step up to the plate. Definitely no one in the back-line most of them are barely out of nappies, the only credible alternative would be Haskell but he needs to focus on developing into a world beater before focusing on the captaincy.
"Cipriani for all his failings has showed some signs of sheer brilliance which if allowed to develop in the right circumstances could see him ranked up there with Wilko and Carter. Wales might be a good model to follow their have developed Hook into a good attacking choice over the ever steady Jones. We have good solid fly-halves in Barkley, Flood et al... we can rely on for solid performances, why do we feel the need to let Cipriani go it alone from the off, give the guy a chance!"
- Ben
"The English press should lay off Martin Johnson and start drilling the "little cutie-pie celebs" they themselves created, by confronting these boys with their choice to lose their heads and capitulate."
- Vaughan Billing
"Danny Cipriani has great potential - that is clear enough. But's that's all he has. So far what has he actually achieved in the game? His pace and vision are far ahead of where Jonny Wilkinson ever was or could be. I saw him play for Wasps on a cold night at Kingston Park recently. His performance was mixed - a couple of nice breaks and some good kicks put over, but what worried me was his obvious distaste for the physical side of the game. He simply didn't want to know about head on tackling and this weakness has been ruthlessly exploited by Australia and South Africa. You could almost see Mortlock and Roussow salivating as they ran at his outside shoulder safe in the knowledge that he would not make the tackle. This is in contrast to Wilkinson who would have made those tackles. The charged down kicks are a technical fault that can be rectified by good coaching (What is Jon Callard doing? Come back Dave Alred, all is forgiven...).
"Tackling is about attitude as much as it is about technique. Good tackling demonstrates commitment to your team-mates. If he wants to prosper at test level then he has to sort it out. I would have hoped that after being floored by Lewsey he'd have got the message. Bleating in the press that he'll never be in the Wilkinson league as a tackler is not the stuff test players are made of. He should have kept his mouth shut. He is physically bigger than Wilkinson and unquestionably quicker so he has the raw physical gifts to be a good tackler. As for the celebrity BS, if he can pull a girl like that then good on him!"
- Andrew
International results:
"There is no mystery about what happened at Twickenham, Cardiff and Paris: The superiority of Southern Hemisphere rugby was clear for all to see.
"The North may think that European club rugby offers the perfect platform for developing young players, but this is clearly not true. Consider the abject performance of Danny Cipriani, hailed for months now by poorly-informed northern rugby writers as the new saviour of English rugby.
"Same story in Cardiff. After holding the All Blacks even for the first half, the second half was men against boys. Again, all the pre-match blathering from the British media was quite wrong.
"With its huge player base, England MAY again develop into a competitive team. But for at least a season or two, Martin Johnson has a very tall mountain to climb."
- Geoff Stevenson (Victoria, Canada)
"New Zealand had a dominant set piece and once they decided to place more men into the contact area after half-time, this gave Carter the time and space to direct play nicely.
"More of the same next week should see a 30-point win against the Men in White."
- Perry
All due respect to your writer. Wales at NO time had ascendency in the scrums. They held their own (barely) for 20-odd minutes. Then it was return to normal service. Make no mistake, the All Blacks win came directly from scrum dominance, and then total forward dominance in the second half; in all facets.
- J Lindsay
"Great win for the All Blacks against a fired up Welsh side at home. They absorbed everything that Wales threw at them and then showed their class with good tries. New Zealand look slick when attacking, good angles, accurate passes - something the Northern Hemisphere teams need to improve on - how many times does a Northern Hemisphere back have to check their run when a pass is not in front of them?
"Nice touch from Rodders So'oialo checking on the injured Welsh lock.
"Where to now for England? A determined ABs team wanting to complete the Slam on Saturday, that's where... marvelous. I thought like many England fans, Johnno's arrival would galvanise the team and better times were ahead. That hasn't happened and we're now staring down the barrel of three losses against the Southern Hemisphere big three. All credit to the Boks, as a lot of pundits had written them off after the Scotland game, saying they were cream crackered. A great response...
"A second win by the Aussies, who under Robbie Deans are becoming a consistent team. Tough game against the Frenchies where had Skrela not been so wayward with his kicking could have been a different story.
"And finally, did anyone see the Haka in the Munster game? Has a non-Kiwi team ever had their New Zealand players perform the Haka against the All Blacks before?"
- Scottie (Englishman in Oz)
"I am tired of Northern Hemisphere referees (with the sole exception of Chris White - who stands like a beacon in lieu of what you could possibly produce from up north) - they are pedantic, they are deliberate and they are biased. They blow with the mentality of a schoolmaster from the 60's and their patronising, belittling demeanour is evident for all to see. In more colloquial terms, they are utter crap.
"I thought Allain Rolland was bad - then we had to endure wanker Dave Pearson (or was it Pierce? Never heard of him before - hope I never do again). And if it wasn't for the absolutely sublime and muscled defence of South Africa on Saturday, I'm sure that Nigel Owens would have done his damnedest to ensure some balance.
"BOTH yellow cards were absolute drivel - 'Beast' was off his feet the first time he played an open ball but received a warning for that, which allowed Owens to card him when South Africa was on attack - questionable; and the rule says Conrad Jantjes can stand his ground and not move - which he did - Armitage's Hollywood was befitting a football primadonna instead.
"What of Haskell's stiff arm on Habana at the ruck? "I saw something out of the corner of my eye" says Owens. Oh please, give me a break. If that was Schalk or Bakkies you pen-pushers would be crying foul for years, and the IRB would be running out of ink for all the citings forwarded. Authorities in the north are pathetic.
"It is no coincidence that, when looking at the Tri-Nations vs Six Nations' games, the low-scoring games have been controlled by Northern Hemisphere referees (SA vs Wales, SA vs Scotland). Sure the Springboks played some dodge rugby but the penalties conceded on their own ball, 5m from the line defies any logic. The New Zealand and Australia games had Southern Hemisphere referees (and two of the best ever to control games - namely Jonathan Kaplan and Mark Lawrence) were flowing games with points scored all around the park. Funny, don't you think?
"One thing is certain - the Tri-Nations are far better than the Six Nations at this moment in time - using crap referees to try and stablise that ship is not helping the game at all.
"One last word - leave Martin Johnson alone. Sure the tide has turned since 2003, but the very thing that made me hate Johnson as a player, makes me like him as a manager. He has balls. He can tough up to your journo's and has the broad shoulders (figurative here!) to admit he has made mistakes but can fix it going forward. Again, leave the man alone. I have new found respect for him in the face of adversity.
"Just like South Africa, England can't win everything all the time...."
- Glen Elferink (Port Elizabeth, South Africa)
"I am begining to wonder if Johnno is watching the same game as me. I'd have thought England's pack lacked the "grunt" that we have come to expect and that's hardly going to be solved by adding in another lineout bean pole like Kennedy. Borthwick is 29 and has been passed over many times in the last 5 or 6 years because he always looks a bit lightweight around the pitch. I don't know Lipman but I thought Rees has played OK so far, I'd have brought back Moody if a change was to be made. The back-line still look like they have been picked by Snow White, are there no English backs that weigh over 15st or are the selectors being sponsored by weight watchers on the quiet? If we are going to pick two centres as small as Noon and Flutey why not go for Tait at outside centre, at least he is a real threat with the ball in his hand."
- Bill (Doncaster)