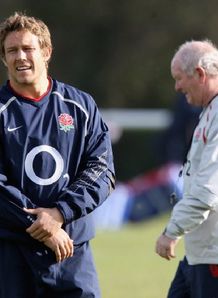 With so many disgruntled England fans fuming over their team's lacklustre performance against Scotland over the weekend, the Barmy Army's blood pressure reached boiling point after Jonny Wilkinson was the only member of the team made to pay for the Six Nations loss.
Without forgetting Wales' attempt at Grand Slam glory, the main topic of discussion this week has been aimed at England's failed Six Nations campaign. This is what you had to say...
Six Nations reaction:
Well, I didn't watch the 6N this weekend - just read the results and analysis of the games. The reason I don't watch the 6N and European rugby is quite obvious based on the weekend's results. I learned my lesson a long time ago. If we are to expand rugby, then we must dissuade British rugby from being telecasted!
Johnny Wilkinson is the perfect example of European rugby: a player who sits deep in the pocket behind a pack of forwards and attempts drop-goals. He is bound to make one of significant value over time as he has. The result though: a boring, counter-productive spectacle time and time again, but he keeps getting selected because you people think this is great! A huge salary and royally knighted is his reward, and so long as England beats New Zealand periodically 1 out of 6 times (scoring less tries in doing so and getting the benefit of dodgy officiating, not to mention the 40-point hammerings of the other 5 times) then all is well for rugby in Europe.
- The Balls (Canada)
Suddenly less than two months seems a yawning chasm in time between hope and reality. ".......let's assess the evidence. What evidence, I hear the cry?" (Andrew Baldock). Quite. The folly of using club results to predict Six Nations results returns with unerring frequency to haunt those making such predictions. When will they learn? Poor old "title chasing" England! Quite a few chickens coming home to roost as stark reality hits home.
- Richard Guest (Edinburgh)
I have just watched Wales beat Ireland and am happy with the result. However I am not so happy with the decisions of a very poor referee (Wayne Barnes). I thought he was incredibly biased in his rulings and some of them were outrageous. The stamping at the rucks went un-noticed for one. The decision NOT to send off the Ireland player for the blatant illegal hit on Ryan Jones in the 74th minute. Does anyone watch these people and discipline them when they have a bad game? Two of our players were sin-binned for offences but not one Irishman. Looking at the replay of the match the incidents are worse.
Can referees even be cited?
- S Jones (Wales)
The Murrayfield defeat is all the evidence we need. Ashton's silly reaction to the Cipriani photo is only one of a number of miscalculations.
English Rugby Union players are grown up professionals and need to be treated like that. The only way to win a game is to select the best team available regardless of prejudice and treat every game like the last. Only then will England get the team and the results they need.
Vickery knew the challenge posed by the Scotland game and the players knew. This was a time to be bigger than petty rules and schoolmasterish amateurism.
England needed the very best side and inspired tactics to tackle Scotland and go forward in the six nations,
pity Ashton did not provide either, and he let his players his fans and his country down.
It is time to stop playing and find a professional coach big enough to face the challenge of leading the English team. Saturday's defeat was a sad indictment of the amateurish attitudes which still pervade national rugby in England. Most fans would rather the entire England team had been out clubbing this week - they would probably have bonded and performed better!
Let's grow up and treat the players as adults - a coach does not form a team the players themselves do that- if they are allowed to
Ashton has badly let the fans down tonight and must seriously reflect upon that.
- Andy Rowley
Right then, where to start if you are an England fan?
Again, we are relying on out muscling professional teams. This doesn't work and is an indication of the major limitations that we have as a rugby team. England are the Brizzle of world rugby, relying on forward power and penalties to win games. Occasionally, we get a lucky score and beat a team (Wilko's chip v Italy, Sackey v France, Lewsey v France at the WC) but we don't have any penetration.
The biggest problem is that we start to deep. Wilko is stood 10-12 yards behind the gain line and receives the ball standing; any defensive coach worth his salt will simply utilise a press / rush defense and we then struggle to create any impact. Most England attacks go lineout, pick and drive, pass to Wilko, pass to a forward, lose 5 yards. We then rinse and repeat a couple of times before launching it aimlessly downfield via Wilko or Flood. Occasionally, these kicks are good and we earn territory but mostly, they are counter attacking opportunities.
Compare Masi's performance yesterday with Wilkinson's from Saturday; there is little difference outside of the goal kicking and Masi is not a 10. Wilko at his best was taking the ball pretty flat and on the move. This pins the defense and allows runners to take the ball at pace and hit the gain line. I think we need to bite the bullet and use Wilko to close games out, but start with Cipriani or Lamb, in order to attack opposition teams. We also need to lose Flood from the midfield and try and develop a true centre at 12. Be that Tindall, when fit, or Barkley or Geraghty or we look further afield and consider Powell of Sarries, Armitage of London Irish or Allen at Gloucester (although, how much game time he gets next year might be an issue).
We seem to have found a true finisher in Sackey and Big Les will get better. He also gives England a serious option coming in off the wing but is criminally underused. He is so desperate to do something when he gets the ball that his eagerness can lead to errors; better involvement would stem that. As seen on Saturday, with a quick tap and go, he can beat the first man and create a bit of space. 15 is an issue and is dependant on how England want to play. If we are simply going to bang the ball back, then Cueto is an option, as is Mike Brown. If we are going to make teams chase everything down due to counter attacking running, then Balshaw, Tait or Foden is an option. Tait is a better centre but as a counter attacking / broken field runner, he is pretty special.
We seem to have gone for the option of picking hard working, limited players, who are unable to create space. For instance, Noon is a In the short term, I would even consider Farrell at 12 - he takes the ball up hard to the gain line and has the ability to offload really well. In last years 6N, he created a number of tries due to his ability to hit a flat pass into a runner at the gain line - I don't remember an England player doing that once this year.
Ashton's coaching seems to be woefully lacking, with players seemingly unsure of any particular game plan. The win against France allowed a modicum of breathing space but the inept performance in Scotland has removed any goodwill toward Ashton's 'vision'. Currently Ashton's tactics seem to consist of a forward either utilising the pick and go on the fringes or being used to bang it up the middle; against an international defence, this is ripe for exploitation. The amount of aimless kicking was ridiculous and we seemed massively under prepared for Scotland kicking the ball at us - this was always going to be the tactic and is essentially Scotland's only tactic but we failed to have a game plan. With Balshaw, Sackey and Vainikolo, we should have had a structured approach to either run the ball or use up and unders. Humping the ball straight back and giving the receiver 20 yards to run into before he can be tackled was ridiculous. You could also see the frustration breeding in the players. Vickery looked down in the dumps, Sheridan was visibly angry and Vainikolo was consistently frustrated as yet another 'back' move resulted in a forward trundling through midfield.
Incidentally, I would like to see Rob Andrew publish his findings from the Autumn and outline the future plans for English rugby; I assume the phrase '10 man rugby is unbeatable' will feature quite heavily. It is quite galling watching Wales with Gatland and Edwards at the helm and being fully aware that both these guys could have been coaching England. This would have also led to the potential for a seam less transition, from Gatland to Edwards in the coming years. I really hope that Andrew's role as Director of Elite Rugby is under review; I am yet to see anything that is elite and even more worrying, no signs of a team moving toward an elite status.
Horrible performance, devoid of ideas and a real worry for the future. I can't remember where the summer tour is but playing like that may result in a fearful hammering.
- Mark Powell
England's display was the most clueless I have ever seen in twenty years. Coupled with the second half against Wales, nearly losing in Italy we have only played one stuttering game this year prior to Saturday's debacle. Whatever the result Saturday it will be a dismal display with a likely trouncing in New Zealand to follow.
The players concerned still turn it on in the Premiership and Heineken Cup and we have a huge talented player pool (notwithstanding some remarkable players are readily ignored). So at some point someone has to state the obvious and say it's the coaching set up that needs drastic attention. The combination of Andy Robinson's forwards and defence coaches foisted on Ashton plus his own brand of cronyism has produced a stodgy misfiring plan with misfitting players who don't know what they are supposed to be doing.
People moan that Lièvremont is devaluing the Six Nations by capping so many youngsters and playing running rugby, but they have a shot at the championship and now have a wonderful selection of young players who know what it is like to play with the big boys. Without being fortunate in Rome we could be looking at the spoon with nothing learnt whatsoever.
Saturday was a desperate affair and made all the chiller experience by watching Charlie Hodgson come on. He is a grand premiership player but is proven time and time again not to be up to international standard. If he steps onto the pitch next Saturday, it's a shabby way to treat 80,000 people! The RFU have done nothing positive since appointing Woodward nearly a decade ago, taking really bad, easy options all the way. Either give Ashton a proper contract and his choice of coaches or get someone else to bring in their own set up. Just a shame the best people for the job passed by the door and were given the bums rush last autumn. Lets just hope someone grows a pair of balls and picks up the phone to Jake White PDQ.
- Peter Scales
Couldn't agree more - England is rudderless and more importantly captainless. We should be doing better. Management and selection are seriously adrift - unlike football we don't even have to look abroad for talented coaches.
- Paul D.
Having watched Scotland v England on Thursday, I have to say I am even more frustrated now at the France v England game than I was last week.
As Scotland showed to the rest of the world, nowadays, all you need to beat England is to contain their pack (not outplay, just contain), be brave in defense and under the high-ball, and play a no-nonsense brand of rugby.
England lost to Wales at home, then away to Scotland. In between, they managed a narrow win in Italy and... a win away in France! It tells a lot about how mediocre the French team was that day. Marc Lièvremont had fielded a crop of lightweight, untested young players and told them only one thing: "never kick the ball". Those tactics cost us dearly in the opening 10 mins and closing 5 mins. To be honest, on that day, the French tram looked nothing short of ridiculous.
Lièvremont & N'Tamack are former Test-players, they should know that there's nothing worse than losing at home to England. French fans have always easily forgiven the occasional defeats at Croke Park, Cardiff, Murrayfield or even Twickenham, but there take pride in keeping a clean record at home, especially against England. It's a pity they did not factor that when picking their match-day 22, and elaborating their tactics. They say they are thinking long term, but beating Eng at home (and keep grand slam hopes alive) should always be a top-priority short-term objective for the French staff!
On the top of it, even some English fans would have been with losing in Paris this year, since it would probably have hastened Ashton's demise!
- Thomas (Rennes, France)
Dear Mr Ashton and Mr Andrew,
I wonder if you could help me?
I have developed a terribly alarming condition of late, one which I can only describe as an extremely large pain in the arse. You brave men alone can cure me.
I have recently been experiencing symptoms of chaffing and a feeling of numbness in my posterior department which I have discovered is not due to my underpants but rather a distinct lack of movement (jumping up and down with glee) when watching, some would say wasting time of late, England under perform in that grand old spectacle the Six Nations. What drama? What suspense? What on earth has happened to England?
When sitting on my sofa contemplating England's dramatic fall from grace, and I might add trying to minimise my sitting tackles discomfort, I realised that a dreadful mental disease has infected our England squads psyche. One which I am sure that your professional expensive medical team have identified.It is so serious I feel it necessary to offer my humble diagnosis as well in order to further the national cause and curb my "soothing cream" bills.
I believe that the England players think they are rabbits. Let me explain:
Caught in the mesmeric glare of a cars headlights any rabbit worth its salt would freeze, that's its job. Freeze then get run over. A nice fluffy brown rabbit is for cuddling, That's its job, to be cuddly. A good rabbit will sit in its cage and not move. It will get old fat and sluggish. That's its job. Get old, fat and sluggish.
Somehow these rather rabbity habits have managed to enter the hearts and minds of our men in white. (I say "our" because they represent England which is a rather large well informed rugby playing nation. It must be hard to see that having all your friends around you in that big stadium down in London) I genuinely fear for the England players well being. We can no longer expect them to get run over by a nasty French loose forward or be cuddled by a hairy thistle eating Scotsman. Not only is it degrading but someone will get seriously hurt if you're not careful, and I'm not just talking about Iian Balshaw or Johnny "super bunny" Wilkinson.
There is a ray of hope though. England are not the only country to have endured this fate. Until a Mr. Gatland appeared in the valleys (thats Wales) Gavin Henson was positively orange, although it has not been scientifically proven wether this was due to carrot over-exposure or fake tan. The Welsh loose forward Williams has hair as red as fire, again could be down to genetics not just over exposure to carrots. Mr. Gatland stemmed this "rabbititus" by employing a really good coach from England called Mr. Edwards also it appears that the WRU top brass do actually know what they are doing and "do" something. Of course you would never consider such flighty ideas so I bring you to my conclusion below.
I am sure that you realised the seriousness of this situation and have a back up plan. You do have a back up plan don't you? If not I can see only one remedy. Please don't think for a minute that I am suggesting that you and Mr. Andrew administer a dose of mixymatosis to the players carefully weighted bowls of pasta. I would follow a far less illegal line:
Drop them, not from a great height tempting as that must be, but to their day jobs as half decent rugby players. This would allow them to do what they do best. Play rugby. You could then spend, not waste, the Rugby Football Unions money finding a large unhumanised group of rabbits and turn them into young strapping independently thinking human international world beaters.
I implore you please help wake my arse cheeks up. Relieve the England players from their rabbity torment. Make "our" England proud!!!!! (remember the bit about informed large nation etc...)
I hope that the above will aid you in soothing my arse but If you need anymore advice please do not hesitate to contact me or any of the enormously dwindling group of England fans and players at your disposal. (remember when I say England fans I mean that informed lot that seem to have the largest player base of rugby players in the world that don't live in a big stadium and that are not from Tonga or one of those far away dreamy places)
With sincere respect and admiration,
- Finlay Bassett (One of that big group of annoying people who don't live in that big stadium in London not Tonga)
Jonny Wilkinson axing:
It is rubbish to say Johnny is past his best, and also to rubbish the England team, who a few months ago could have been just a disputed try away from retaining the World Cup.
Every team wants to beat England, every team raises its game against England, and every time England fall a bit short they get castigated collectively and individually, which is wrong. Rugby is a 30-man game, and on any given day the 15 men playing against England can make them look ordinary, and on any other given day England can do the same to their opponents, as they have done the last two times they played France.
Johnny Wilkinson is a great player amongst many great players, and given the opportunity he will show that for years to come. The reporting of sport in general, including rugby has become a minute by minute trial by words. If Johnny comes on next week against Ireland and scores the winning points then once again he will be invincible, that is the way reporting is. You don't become the record points scorer by being average, and after all he did score all of England's points at Murrayfield.
For me if there is an issue in English rugby it is at HQ where the old fuddy duddies who run English rugby, including Bill Beaumont, Fran Cotton and Rob Andrew etc should look back at what they achieved in the amateur days and compare it to what England now achieves in the vastly different professional era, they are totally out of touch. That said I think England needs a coach that has experienced the modern day game, has respect of the players, is a believer in England rugby, and knows what it takes to lead and to win. For me the ideal coaching team or individuals would be Martin Johnston and Lawrence Dallaglio. Lawrence especially in my opinion would have so much passion compared to Brian Ashton, and would be the man to lead England into the next World Cup.
- Jeff Shea
Absolutely appalling to drop Wilkinson. The whole team played badly against Scotland. There was no forward momentum, no quick ball so how is a number 10 going to be creative in such circumstances.
Flood is learning his trade but a decision needs to be made who plays 10 it looked like Wilko and Flood were playing the same position at stages of that game.
Everyone wants England to play well, and for distribution, tackling and place kicking Wilkinson is still the main No 10. Let's hope him being dropped does not let him be overlooked for subsequent England games. At 28 he is at his peak Cipriani will get his day but it is too early, look what he did on his introduction to the six nations this year.
Come on Ashton don't use Wilkinson as a scapegoat.
- Jack Dinsley
Is dropping Jonny or dropping Danny in it the harshest treatment?
It's scandalous that the rest of the team are all retained after last week and makes Cipriani on a hiding to nothing if Flood is going to hoof every ball he gets straight up the pitch again. I don't think O'Gara will be as lenient with high balls on Balshaw and Big Les the 'knock on king' is likely to get some too. Whatever the outcome England need some serious work and that starts with a new coaching set up where the coach be it, Ashton, White or whoever bring there own front line coaches with them and some fresh ideas. On form this could be a truly miserable game from to watch from two stale teams, but one where both sets of supporters secretly wouldn't mind a loss if it gets them a change in management!
- Peter Scales
English people you have no shame lose a match blame it on Jonny or David, how come the English can never lose as a team. Your selectors are no good how many man play rugby/football do you have in this country no one should be able to compete with your but you will never win until you change you ways. For starter your need a SA rugby coach and you need to encourage your younger players to play in super 14s'. You are sick in the head so Jonny lost the six nations for England.
- B.G
One man does not make a team and the whole team were undisciplined and unprofessional with constant errors that would of even made a schoolboy blush!
Is it cheerio for Wilko, get a life! obviously not, he had a rare off game, jeeez if Balshaw can get back, in so can Jonny!!!
Perhaps we should be asking is it the end for Ashton? Perhaps this is a more interesting question...
- Hookie
What a disgraceful way to treat Jonny Wilkinson!
So Ashton is saying that the dismal display of a rugby match was all down to JW? RUBBISH!!! Not one single player could have scored any more than 4/10 yet he's been made the scapegoat.
Be realistic and DROP THE LOT - bring in the Saxons - they certainly couldn't do any worse.
SHAME ON YOU ASHTON!!!
- Ray Wood
Wales v France:
Wales have made a remarkable come back after the world cup and the 2007 season, I don't think they will do it with France, despite beating England and England beating France. France are a far superior and stronger side. Wales despite beating Ireland didn't really perform good rugby in Dublin last Saturday. The Irish were equally as bad. My money is on France but i would love to see Wales do it after what they went through last year.
- F McDonogh
Going into this tournament I never even hoped they'd beat England or Ireland. Seeing the grit, determination and pure skill they've shown along the way I don't see any reason why not. When its their season there's no stopping them. And I'm going to be in Cardiff, in the Millennium Stadium to see it happen.
- Jim
Don't think this Grand Slam match will have the same emotional baggage as that in 2005, the first since god knows when. This one will have its merits though, as it has included away wins at both Twickenham and Croke, the other way round to 2005.
Whereas in 2005, there was a more instinctive method in their play, this time you can see the game plan develop so that they can use their creative instinct within a more disciplined overall method.
This season has demonstrated the difference a coach makes, Gareth Jenkins failed to get anywhere near the standard at which they are playing now with virtually the same players. Or has the mature leadership of Ryan Jones rather than the immature influence of Gareth Thomas made a difference.
- Eifion Jones
Hook over Jones? Yes, certainly the right choice. Against the French, Wales will need the flair that Hook can provide. However there is another factor - that of the French not being able to 'read' Hook as easy as Jones. Much of the French team are inexperienced and the ability to second guess a player perhaps not as well honed as some of the old hands out there. This is another example of Gatland selecting a team for the game in hand.
- John Richardson (Wales)
Yes, I think the right choice, as was Jones' selection for Ireland. Horses for courses etc. and of course, the ability to change direction during a game, with two different fly halves.
- Huw Jones (Toronto)