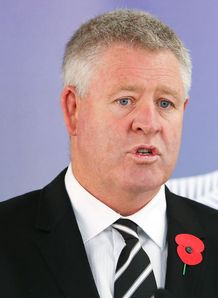 Related links
Teams
Also see
NZRU bosses remain exasperated that Northern Hemisphere nations refuse to agree to moving the June Test window back a month.
Steve Tew, the NZRU chief executive, brought the issue to the fore at an IRB meeting earlier this month, citing the current clash between the June internationals and Super Rugby fixtures, and a longer pre-season break for players.
But his proposal was met with stiff opposition from officials north of the Equator, especially those in England and France.
"Some think it's not beneficial for their preparation, they think it's best for their national teams to play Tests straight after the domestic competition, rather than have a break and then come back together," Tew told Radio Sport.
"I think our best chance is the beginning of the next cycle which will be 2020.
"While that might sound like a long way away, if we get it right there might actually be an opportunity to have a much broader look at this and really explore whether there's a proper global season available."