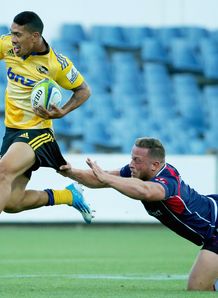 Related links
Teams
All Blacks head coach Steve Hansen has called for patience over the development of promising openside flanker Ardie Savea.
Savea has been in and out of the Hurricanes side so far in Super Rugby this year, starting just twice and playing no part against the Bulls last weekend.
The careful management of the 20-year-old however is seen as positive for Hansen, who believes he is still a few years away from fully developing physically.
Savea toured with the All Blacks as an apprentice during last year's unbeaten tour to Europe.
"The first thing people need to understand is Ardie wasn't an All Black. He came on the trip as an opportunity for a young man to see how the All Blacks prepare and develop their game strategy during the week and to learn how he could grow into the player we potentially think he could be," Hansen told Fairfax News.
"He's very young and he still has a lot of growing to do from a physical point of view and mentally he has a few things to develop.
"I think the Hurricanes have handled him outstandingly well. Bear in mind he is still only 20.
"The best of Ardie will be when he's 23-24 and he's finished his physical development. Then he can go out and sustain performances week-in, week-out.
"If we were putting him out week-in, week-out right now in the Super Rugby competition, which is extremely physical, then we wouldn't be doing him a service.
"Mark [Hammett] has done a great job. He's growing him as a player and a man appropriately.
"From a fan's point of view they see this young man at ITM Cup level who is so outstanding, but they have to understand the next level up is a massive jump.
"It takes time and you are better to take time with these quality people so they have a long career rather than a short, flashy one."