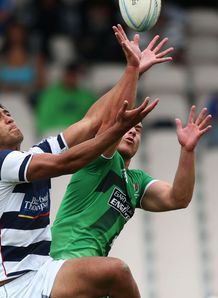 Related links
Teams
New Zealand Sevens coach Gordon Tietjens has made three changes to his squad for Wellington, including new cap Akira Ioane.
The squad features the return of Ben Lam from injury for the first time this season, and the debut of 18-year-old Auckland forward Ioane.
Veteran playmaker Tomasi Cama also returns to the side after missing the recent Las Vegas Sevens through injury.
Canterbury's Mark Jackman and Northland hooker Matt Moulds both drop out of the initial squad.
The All Blacks Sevens currently sit one point behind leaders South Africa in the standings after four tournaments, winning the opener in the Gold Coast before losing out in the final to the Blitzbokke in Port Elizabeth and Las Vegas.
New Zealand Sevens:
Tomasi Cama (Manawatu), Scott Curry (Manawatu), Ambrose Curtis (Wellington), DJ Forbes (capt) (Counties Manukau), Bryce Heem (Tasman), Gillies Kaka (Hawke's Bay), Akira Ioane (Auckland), Ben Lam (Auckland), Tim Mikkelson (Waikato), Lote Raikabula (Wellington), Sherwin Stowers (Counties Manukau), George Tilsley (Manawatu)