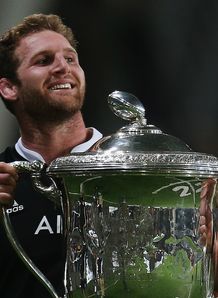 Related links
Teams
We asked five Planet Rugby scribes to name their 2013 Player of the Year...and got five different answers. Jamie Lyall argues the case for Kieran Read.
There is an irresistible Black force sweeping world rugby at present; characterised by overwhelming intuitive quality, a mind-set and resilience like no other, and a sheer ruthlessness from 1-15 that sets them apart from every team on the planet - embodied by two titanic rugby talismen, Dan Carter and Richie McCaw.
Yet it was neither who so comprehensively stole the show in 2013, with a string of performances so outstanding it would take an almighty Wallaby-esque booze-up at the IRB's Dublin HQ for him to be overlooked for the Player of the Year award.
I speak, of course, of New Zealand's Kieran Read.
Journalists and pundits alike are lining up in their droves up to shower the number eight with praise after his role at the forefront of the All Blacks' "perfect year", 14 wins from 14, and I am hereby joining that lengthy queue.
For Read was a "perfect" player amid a perfect team.
The Crusader is a typically tough customer as confirmed by a cursory glance over his statistics. Against the best teams in the world, he has consistently stood head and shoulders above the rest; making tackles, carrying ball and attacking the breakdown with a hunger worthy of a Bill McLaren simile of the animal-based variety.
Think of the raw power of his second five-pointer against South Africa in Auckland, or the bullocking fifty-metre break he made against France in June; swatting aside front-five forwards like insects.
Contrast that abrasiveness to the sublime touches showcased by Read with ball in hand. A run of six tries in seven games is a mighty impressive return for a back-row; in fact it's positively prolific.
Let's not overlook, too, the delightful round-the-back offload he threw to Aaron Smith against Argentina in the Rugby Championship, the slick contribution he made to the Kiwi lineout, nor the back-handed pass he slipped to Ben Smith in the tournament decider.
Not only this, but - to the delight of the ever-demanding New Zealand public - Read proved the All Blacks have a ready-made replacement for the role of skipper when McCaw finally hangs up his boots and forgoes his armband in the not-too-distant future.
The man himself could be forgiven for revelling in the afterglow of a stellar season, but his quotes and sound-bites are the epitome of humility, with "improvement" and bettering himself always top of the agenda.
So, to the chaps across the Irish see pondering over the award: put down the Guinness, step away from the Bushmills and set the Baileys back on the shelf for now. There is but one exceptional candidate at the summit of world rugby, and unsurprisingly, he's dressed all in black.
By Jamie Lyall
@JLyall93