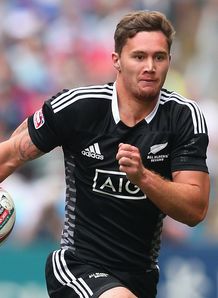 Related links
Teams
All Blacks Sevens coach Gordon Tietjens has included the dangerous Gillies Kaka in his squad for the upcoming two rounds of the IRB World Series.
The travelling squad includes nine players from the side that won the first tournament of the series in October on the Gold Coast of Australia.
Kaka, one of the form players of the 2012/13 season, returns after injury for his first tournament of the new season and World Cup team member Bryce Heem is also back in the side after a strong ITM Cup season with Tasman.
"Gillies Kaka is a very good player, one of the best in the world, the player of the World Cup so it's great to have him back from injury," said Tietjens.
"Bryce Heem has come out of a pretty good year with Tasman and again someone who is very big, fast, fit and knows the game and he is going to add a lot of strength to our side."
The All Blacks Sevens won in Port Elizabeth last year, but have not won in Dubai since 2009, having been runner-up last year.
"Dubai support us in a lot of ways with the expats that are there. There are heaps of Kiwis and it's a great tournament to win," added Tietjens.
"It's a very tough pool with Kenya, the French and Portugal, and you have to beat every team to win it, so it's going to be tough, but I am sure if our guys play to their potential and play with the real hunger we have displayed this week, they can go well."
All Blacks Sevens: Tomasi Cama (Manawatu), Scott Curry (TBA), Ambrose Curtis (Wellington), Sam Dickson (Canterbury), DJ Forbes (captain, Counties Manukau), Bryce Heem (Tasman), Gillies Kaka (Hawke's Bay), Tim Mikkelson (Waikato), David Raikuna (North Harbour), Lote Raikabula (Wellington), Sherwin Stowers (Counties Manukau), Joe Webber (Waikato).