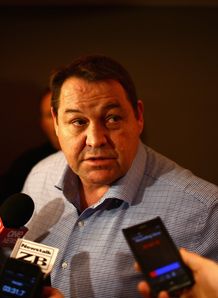 Related links
Teams
New Zealand head coach Steve Hansen has hit out at the UK press after some of the All Blacks' motivational messages were leaked.
A report in the Daily Telegraph earlier this week detailed the messages discovered by a reporter in New Zealand's hotel.
The messages inside the suitably named Lancaster Suite at Kensington's Royal Garden Hotel included; "We are the most dominant team in the history of the world."
Additional phrases - "We are playing England - this is about history, about human nature" and "On Saturday, don't moan, even to yourself" - were also leaked, causing Hansen to criticise journalists later in the week.
"When there's a breach of trust by you guys, it's always disappointing because we're trying to work together," said Hansen.
"I just wished he (reporter Oliver Brown) had come and asked me what it all meant because what he wrote didn't make sense."
Explaining the "dominant team" mantra, Hansen stated that without motivation to improve the All Blacks would lose their spot as the number one side in the world.
"I read this week that England want to be number two in the world, and they're striving to be better than they are," added Hansen.
"What we're striving to be is better than we are at the moment, which is number one. If you don't look to improve yourself, you're going to go backwards.
"We've got massive expectations in our country from our fans and we wouldn't change that."