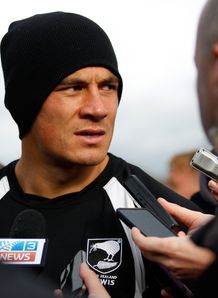 Related links
Teams
Cross-code star Sonny Bill Williams has hinted he may retire from all sport in 2015 or 2016, claiming "sport is not everything."
Williams is currently in England participating in the Rugby League World Cup and scored a hat-trick for New Zealand against Papua New Guinea on Wednesday.
Having already won the Rugby World Cup in 2011, Williams is expected to cross back over to Union in 2015 with the Chiefs in Super Rugby as he targets a spot in the All Blacks' squad for the next global tournament in England.
With the chance to participate in the 2016 Olympic Games also a possibility for Williams as part of the New Zealand Sevens squad, the 28-year-old has plenty of options ahead of him but admits that he will not be around forever.
"Maybe after 2015 or 2016, that might be it. Sport's not everything, bro," Williams told the Australian Telegraph.
"It can be pretty draining sometimes. But sport's not everything.
"I can't say I'm an important person just because people want to speak to me. It's just how the world is. We are only a blip in what goes on in this world.
"I'm at my happiest when I'm on the field and working hard, training hard, and earning the respect of my teammates. If you do that, you play good footy.
"You can get caught up in living a big life and being flashy and all that, which I probably did when I was a youngster, but when you keep things simple and worry about the little things, the things that matter, you will be alright."
Despite not having any definite retirement plans in mind as of yet, Williams did reveal that he would be not be an "ex-player on a TV show bagging the new generation of players coming through."
"I would just be happy quietly raising my family somewhere."