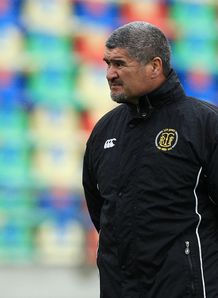 Related links
Teams
Maori All Blacks head coach Colin Cooper was pleased to get their two-match North American tour off to a winning start with a win over Canada.
The tourists, playing in front of a capacity 22,500 crowd at BMO Field, have now increased their unbeaten record against Canada to four games.
After Canada scored first in the opening minutes, the Maori All Blacks raced in three first-half tries and another early in the second-half before the hosts crossed the line to close the gap to eleven points. The Maori All Blacks responded with two further tries in a result that pleased Cooper.
"We wanted to start this tour well and play our style of rugby and fortunately the conditions were favourable so we could deliver the game plan we wanted to play," he said.
"We knew Canada would come out aggressively, but they surprised us with their expansive game and that early try showed that.
"They also didn't kick the ball long so that meant we couldn't counter attack as we planned. So we had to work hard and fortunately secured some good turnovers which resulted in tries.
"We were certainly forced to dig deep and responded well. To Canada's credit, they kept testing us, but I was really impressed with the effort the players put in given we have only been together for a week and had a long journey to get here.
"We face another big test in six days' time so will be working hard on a number of things in the days ahead. Defensively we didn't quite go as well as we wanted so that will certainly be one key focus for us."