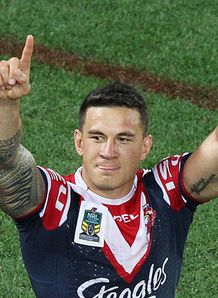 Related links
Teams
Also see
Sonny Bill Williams has been added to the New Zealand rugby league team for the RWC after reversing a decision to make himself unavailable for action.
Williams was omitted from the 24-man squad named on Tuesday by coach Steve Kearney after ruling himself out of selection contention.
The 28-year-old, who has played for his country at both league and union, said he wanted to take a break from sport to spend time with family.
But Williams backtracked on that decision after the New Zealand squad was named, contacting Kearney to say he was now available. Kearney on Wednesday said Melbourne Storm back-rower Tohu Harris had been cut from the squad and Williams had been added in his place.
World Cup organisers have approved the move, although late squad changes are usually only permitted in the case of injury.
Kearney is now likely to face severe criticism over his handling of Williams' selection and his cynical treatment of the 21-year-old Harris, who has played only one test for New Zealand.
The New Zealand Rugby League offered to allow Harris to travel to Britain with the Kiwis as "a development player" but the Melbourne Storm rejected the offer.
"It's been a tough situation, but Sonny brings things to the group that we couldn't ignore," Kearney said.
"He has had time since his NRL grand final win to clear his head and he wants to represent the Kiwis on the world stage.
"He missed our 2008 World Cup win and his inclusion will be a great asset in trying to repeat that success this year. It's not only his footballing ability, but also what he brings off the field which will benefit the team."
Kearney said Harris "handled the situation as well as anyone could".
"It was a conversation no coach would like to have, but he's a terrific young man and I'm sure he'll have many more opportunities to pull on the black jersey. It's been a unique set of circumstances for all involved, but for now our focus is getting set to defend the World Cup with the team we have."