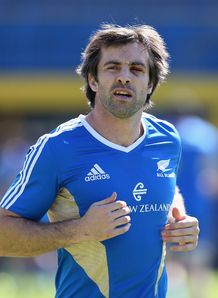 Related links
Teams
All Black centre Conrad Smith believes his team will be best served by concentrating on their own game rather than that of France ahead of the first Test on Saturday.
The final squad for the three-Test series was only confirmed on Sunday, leaving Steve Hansen's men with less than a week to prepare for the match in Auckland.
As a result, Smith admits that they don't have too much time to settle as a team and will rather focus on doing this than picking apart their opposition.
"That's the biggest challenge. You can't try to over-complicate it and you have to trust the experience and skills of the guys you've got to keep it to a pretty simple game plan," he said of the limited preparation time.
"I think for the first few days we'll just worry about ourselves and we'll look towards the French later in the week," he added.
"They're going to be in the same boat. They haven't had a lot of time together and they've still got players arriving now [Monday] and then the other obvious issue is what do you look at from the French?
"It's a while ago that they played together and a while since we played and I think, especially for the first Test it will be two teams worrying about themselves and seeing how they go."