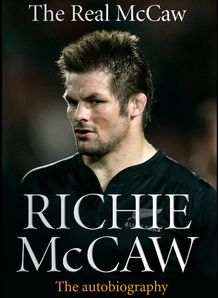 Related links
Teams
Few doubt to any great extent the way in which Richie McCaw's autobiography is set to dominate the charts in New Zealand this year.
After all, if you were any kind of rugby patriot, wouldn't you also want to relive first-hand the experience of finally bringing home the Webb Ellis trophy after an agonising wait of 20 years?
But for those outside the patriotic circle, you might be looking for other things. Perhaps a vicious criticism of Quade Cooper, perhaps a few secrets from the inner circle, perhaps a revelatory sentence or two concerning the much-talked-about gouge by Aurelien Rougerie in the final.
Forget it.
This is not an autobiography that is going to cause much of a stir beyond the boundaries of those deliriously happy Kiwis. Quade Cooper gets a line or two, the gouge is a moment '...in the washing machine of bodies... a hand like a half-closed fist or claw banging across my face, looking for my eyes.'
The circus surrounding the re-appointment of Graham Henry in 2008 gets a good mention, with McCaw making us quite clear why he thought Henry was deserving of another go.
Harking further back to the past, that tackle on Brian O'Driscoll is dealt with as well, with the reprehensible spin doctoring of Alastair Campbell coming under significantly more scrutiny than much of the tour itself.
Even the 2011 final merits only a short chapter, a mesmerising minute-by-minute reminder of just how close France came to ruining the AB dream again.
Again... even now, with Bill safely tucked in among the rest of them in the trophy cabinet, that 2007 defeat to France still rankles. Of some 260 pages, most of the first 60 deals either with the match or its aftermath. The rest of McCaw's career seems to be measured by this peculiar benchmark; every triumph, every disappointment, every attempt at building mental resolve is weighed up against this peculiar yardstick of the one inexplicable defeat.
You find out much of his upbringing, none of which is a surprise. A rugby-mad kid from the sticks who just wanted to get better and better. You are given a glimpse into the world of gliding, McCaw's second great passion. You get to realise just how close he has become with many of the players.
But most of all it is the narrative that grips, the streams of consciousness of injury, disaster, triumph, all the capsules in time of a player who has, since 2003, lived in capsules of 80 minutes a time, most of them spent in 'that split second of time and space at the breakdown, a collision zone where 100-plus-kilogram bodies are hurtling from diverse points of the compass towards a small ovoid focus. Success or failure can be measured in microseconds. Openside flankers live or die in those slivers of time.'
A spill-all this is not. But thanks to one of the finer rugby brains of all time and some excellent wording from co-writer Greg McGee, a riveting rugby read it most definitely is.
By Danny Stephens