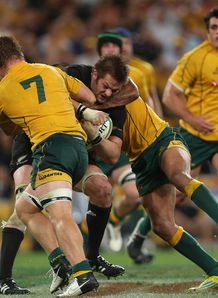 Related links
Teams
All Blacks coach Steve Hansen is upset with the "cheap shot" aimed at captain Richie McCaw in Saturday's 18-18 draw with Australia.
McCaw was involved in an incident with Wallabies flank Scott Higginbotham, who has been cited for illegally targeting McCaw's head.
Higginbotham appears before a a SANZAR judicial hearing on Sunday after being charged with kneeing McCaw in the head and then shortly afterwards headbutting him as a scuffle broke out in the 26th minute of the match.
His hearing will be held by SANZAR's South African judicial officer Jannie Lubbe.
Hansen revealed his frustration that McCaw was once again the victim of an alleged act of foul play and criticised the lack of protection his skipper was receiving from match officials.
"I saw the head-butt - it's another cheap shot," Hansen said.
"He seems to get them every week but everyone seems to miss them."
The All Blacks flanker was involved a similar offence during the Rugby Championship, when Springboks prop Dean Greyling was banned for two weeks for a forearm smash to his face.
McCaw said he expects the the judicial process to deal with the situation.
"It's on TV so it will get dealt with," he explained.
"It does get frustrating at times and annoying but there's not much I can do about it."
Hansen also expressed his disappointed with his side's an error-ridden display which blew their chances of a record-breaking run of Test victories.
"It was probably one of the ugliest games of rugby I've seen," he said.
"We're really, really disappointed, too many avoidable penalties, too many avoidable mistakes.
"But to play as poorly as we did and still manage to show the character and tenacity to get the draw was pleasing.
"It's not the end of the world but there's enough pain and hurt in the dressing room to make sure we learn the lessons from it."