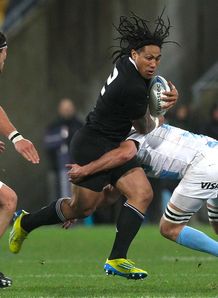 Related links
Teams
All Blacks centre Ma'a Nonu admits that he is uncertain about his future and whether he will see out his current deal in New Zealand.
Nonu, signed a two-year extension in July, but has a clause in his contract which makes provision for him to leave if he wants to and the 70-Test veteran admitted that he has been thinking hard about his next move for several months.
"We'll see what happens really, I haven't made a decision," he told Fairfax Media.
"I have to make a call next week or something.
"It's a decision based on what I want to do, and my family, not because of any other player."
The 30-year-old, who joined the Blues at the end of last season, conceded that being so indecisive was a distraction.
"It's there, thereabouts, but I haven't really made it a priority," he said.
All Blacks coach Steve Hansen did not want to confirm or deny whether Nonu and back-row Adam Thomson - who is also considering his options - would be considered for the end-of-year-tour to Britain and Italy if they decided to leave.
"We'll have to see about that," he said.
"Players have to make their own decision, the only thing I'd say is 'Do you still have the desire to wear the black jersey?' If you have, then don't go because you'll regret it."