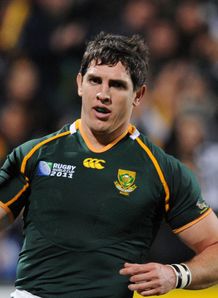 Related links
Teams
Recalled Springbok centre Jacque Fourie has dispelled fears he may struggle with his return to the test-match arena in November.
Having spent two seasons playing in Japan, Fourie was called up by Boks coach Heyneke Meyer to join the squad to take on Wales, Scotland and France next month.
And the midfielder was keen to wave away claims from some that he is not fully committed to the green and gold jersey.
"Whether I am playing against a Japanese team or against New Zealand, every time I get onto the field I give 100%," he told BallzRadio.
"I have enjoyed it tremendously in Japan, but it was awesome getting a call-up to come back and play for the Boks. It's an honour and a privilege to play for my country."
Fourie chose to leave his native land after the 2011 World Cup in an effort to lengthen his career at the top, but the centre was at pains to point out that fitness levels and conditioning are excellent in Japan.
"With the amount of rugby that players play in South Africa the body takes a pounding and is under a lot of stress," he said.
"When I renegotiated my contract with Kobelco Steelers, they knew that I wanted to come back to contend for a Springbok spot at the Rugby World Cup. So when (Heyneke Meyer) called and asked if I could play for the Boks on the end of year tour, they agreed and I was very happy they said yes."