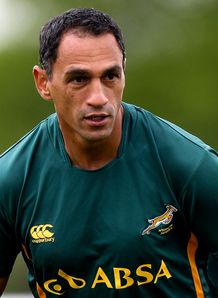 Related links
Teams
Former South Africa sevens head coach Paul Treu does not believe words from his squad played a part in his contract not being renewed.
SARU confirmed that Treu would not be offered a new contract beyond October 31st, following a year when Treu has been under pressure to keep his job.
Failure to win the IRB Sevens World Cup in Moscow earlier this year contributed heavily to his exit, with SARU meeting with Treu's former players to discuss the coach's weaknesses and strengths ahead of considering him for a new contract.
Treu refused to believe his players would say anything before coming to him first, whilst also remaining uncertain over his next move.
"I support my players and anyone can say anything behind my back, but I refuse to believe that any players turned up in a meeting and spoke behind my back," said Treu to Ultimate Rugby Sevens.
"I don't believe senior players like Frankie Horne and Kyle Brown would do that.
"If they had any issues they always would've come to me first and spoken about it. I don't believe any players undermined me in this process, and if some of them did, I don't know about it and I also don't want to know about it.
"SARU have mentioned [a role as assistant to the South Africa U20 team] as a possibility with a view to getting me into coaching the 15-man game.
"But I'm not sure my skills would be properly utilised, because I think differently about attack and defence.
"I don't think, stylistically, the type of rugby South African sides are playing, that they will be open to a new set of ideas.
"I need to just take a break for a couple of weeks and think about the options I have before making a decision."