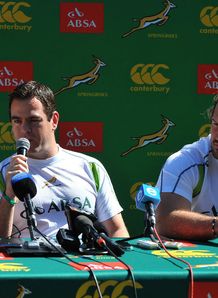 Related links
Teams
Forwards coach Johan van Graan believes the young Springbok pack is showing signs of maturity ahead of Saturday's clash with Australia at Loftus Versfeld.
Despite going down 21-11 against the All Blacks two weeks ago, the performance of the forwards has been encouraging.
"We worked hard over the last few weeks and a few combinations settled well," said Van Graan on Tuesday.
"The forwards played well as a combination and the two locks, with Andries (Bekker) coming on, made a huge difference.
"I also think the front row had one of their best performances in a long time..."
But he said there were still improvements to be made and was confident the Bok forwards would take further steps in the right direction.
"This will always be a team sport, and the forwards' performance was not perfect, so we always want to improve," he said.
"We lost one or two line-outs and we are looking for 100 percent there.
"I thought the kick-offs and ball retention by the team was good, we had the lowest turnover count this year."
Van Graan said experiments the side had tried out against the All Blacks had already paid dividends and the team would introduce a few more against the Australians this weekend.
"Obviously there were some things we tried in Dunedin that worked well and we are looking at one or two things to try this weekend, but the game plan takes a long time to develop," said the coach.
"I thought against Australia in Perth we might have been a bit predictable... especially our second runners.
"If you watched the New Zealand test closely there were one or two tweaks; Frans Steyn got a lot of momentum in the first channel on (Aaron) Cruden."
It was evident in their match against New Zealand that the forwards started to gel as they established go-forward ball for the backline.
The team could, however, not convert their opportunities into points, which the squad has worked on in training this week.
"Australia and New Zealand invite you into the 15 metres (area) and they like to counter-ruck you there and create slow ball, and then press you in the midfield," he said.
"We've worked hard with our outside backs in their decision-making and hopefully it will be better this weekend."
Tighthead prop Jannie du Plessis, who is - with 37 Test caps behind his name - one of the most experienced forwards in the team, said the pack was more than capable of holding their own against any opposition.
"This Springbok pack could stand up to any of those packs and can match them physically and in terms of skill," Du Plessis said.
"So although it is new for a number of players, the new players are special and have already stepped up to a higher level of rugby, and they have performed consistently for nine months now."
He said the inexperience among the forwards could count in their favour, provided they believed in their own abilities.
"You could pick a young pack with players who are hungry and they could play better than guys with a 100 Tests and feel that they have been there and done that," he said.
"So you need that little bit of inexperience because it creates hunger - and a hungry dog hunts best."