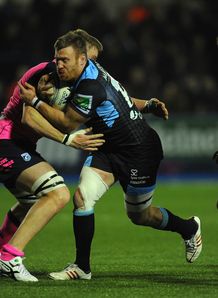 Related links
Teams
Also see
Despite being born in South Africa, Tyrone Holmes views the chance to play for Scotland against the Springboks as the realisation of a dream.
Holmes' father, Stephen, emigrated from Scotland before the Glasgow Warrior flanker was born.
And the 28-year-old revealed that he always wanted to play for Scotland instead of South Africa.
He did admit, however, that he could not have imagined lining up against the Springboks if someone had told him that this time last year.
"No, but obviously this is a great opportunity," said Holmes, who played for Western Province and the Stormers between 2008 and 2012.
"Back in the day I used to joke with my old man about one day playing for Scotland.
"It has always been the ambition, part of the plan and something I have been striving towards."
Holmes was called up for Scotland at the weekend, and could make his Test debut in Saturday's clash with the Boks in Port Elizabeth.
"It is my first call-up to the squad and my first week with the Scotland boys, and the environment I've found has been great," he added.
"It is great to be part of it. I want to use it as a learning opportunity to take in as much as I can and, if I get my chance, to do my best.
"The Springboks are always great tacticians at the breakdown and it is going to be a physical battle there.
"They are rated number two in the world so it is going to be a tough all-round game and that (the breakdown) is going to be a huge aspect of the game.
"I aim to make a nuisance of myself and do my best to get stuck in.
"Wales did well to run them so close at the weekend (losing 31-30 after leading for most of the match), which shows that nobody is unbeatable, everyone has chinks in their armour."