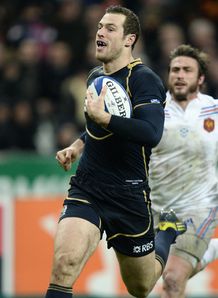 Related links
Teams
Scotland wing Tim Visser is enjoying the adaptation to new boss Vern Cotter's training methods ahead of facing the USA.
Cotter's first match comes after little time working with his squad, hence a focus on shorter, more intense bursts of training early on.
"He is really into intensity," said Visser.
"The type of training we have been doing is short and intense - really hard work but that is brilliant because, as a player, you would rather be on the training paddock for a short time and the work to be harder. That is how it is in games.
"It has been really good, we have been doing a few drills and he has given me a few personal pointers already.
"He looks at all the video stuff, as all the coaches do, and then afterwards will say something that can help me in the game, something like 'don't turn your back on the ball carrier when you are running away from the ruck' or how to catch a ball better, little things like that. I like that."
Cotter's appointment and the upcoming Tests against the USA and South Africa offer Visser the chance to remind the world of his talent after a wretched run of injuries.
A prolific try scorer, Visser is looking to his those heights once again and believes a fresh start under Cotter will help his cause.
"For me it is definitely a fresh start after being out for so long," added Visser.
"With Vern coming in, he will be looking forwards not backwards but that is something that as players and coaches we would do anyway. We try to learn from our mistakes but that is it; we then try to move forward.
"Short-term memory is important for athletes like us; good or bad. You don't want to remember the good stuff because you will be resting on your laurels but at the same time you don't want to remember the bad stuff because it will ruin your confidence. That is something I think is really important."