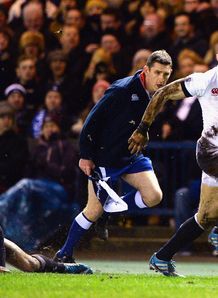 Related links
Teams
Scotland full-back Stuart Hogg has openly revealed that he would relish the chance to take on the fly-half role for the national side.
Scott Johnson's team were embarrassingly nilled at home by England in a 20-0 loss on Saturday, prompting widespread criticism and raising serious questions over the quality of the squad.
Hogg played at fly-half on various occasions for the British and Irish Lions during their tour of Australia last year, when he was the youngest player on tour.
The 21-year-old is arguably Scotland's most talented back and has proved in the past that he has the ability to play further up the backline.
"I would love to step up there," Hogg told the Telegraph.
"Whatever is best for the team. Especially in games like that, when you're not getting the ball at 15, stepping up to 10 would be the ideal opportunity. But whatever the gaffer says goes. We'll just listen to him.
"If I have to step up and start then I'll do that. It is whatever Johnno says and whatever [backs coach] Duncan Hodge wants. Ultimately, it's their decision.
"I had a chat at the start of the Six Nations. There could be a chance I would step up to 10. It put a smile on my face and I said to Johnno that I would do whatever was best for the team.
"But fair play to Duncan [Weir, who played fly-half on Saturday] because he's done well in the past couple of games. It would be rude to take him away from that."
Hogg was visibly frustrated in the loss at Murrayfield, describing the surface of the pitch as "diabolical."
"I did lose the head a couple of times," added Hogg.
"That was bad, but it was just really frustrating. You want to play running rugby but then you get that pitch out there, which is diabolical to be honest. We were struggling straightaway.
"It was a frustrating afternoon. We couldn't get the ball in the right areas and the set piece wasn't working, while England held the ball for long periods and played in the right area - something we just failed to do."