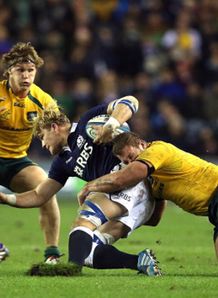 Related links
Teams
Also see
Traditionally among the best surfaces in elite rugby, the Murrayfield pitch has been slammed again ahead of the Calcutta Cup.
Former Scotland and British and Irish Lions prop Peter Wright claimed that Saturday's showcase fixture could become "farcical" should the turf once more fail to hold up.
Though the SRU announced on Monday that a new, hybrid surface would be installed ahead of the 2014-15 season, the infestation of nematode bugs persists and could yet be exacerbated by the heavy rain forecast to hit Edinburgh this weekend.
"I hope I'm wrong but I do have concerns that the state of the pitch will have a big influence over who wins the match," Wright told the Daily Mail.
"Just say the score is tight with ten minutes left and the pitch has cut up so badly it's impossible to keep your feet in the scrum.
"Such an important game could then be decided by a player losing his footing at the set-piece and giving away a penalty. That shouldn't be the way a team wins a Six Nations match."
Wright, renowned for his forthright views on the scrummage as an ex-front row, also warned that the forwards' choice of stud would be crucial.
"If they pick a stud that's too small that could lessen their grip; if they chose one that's too big their foot could stick in the dirt and cause injury," added Wright.
"If a player loses his footing once, he'll be conscious of it happening again and that could lead to a bit of a farce with players not wanting to try anything too fancy.
"My advice to the forwards would be to not to move their foot much in the scrum, make sure the scrum is stable and keep things steady. The backs also have to watch when they side-step and not get their foot stuck in a divot. I'm concerned that a heavy, cut-up pitch will lead to not much decent rugby being played which would be a shame."
Indeed, former England second-row Ben Kay also sounded a note of caution to Stuart Lancaster's pack. Kay stated that England's eight favour a straight pushing contest, "but if you can't get traction because the pitch is cutting up, you have a problem. If you think of England's defeats at Murrayfield they were often on wet, muddy pitches.
"Power runners don't have the contact with the ground to break through and the players with skill don't have the same confidence underfoot. England won't use it as an excuse but they would prefer a fast, firm track."
On Wednesday, Australia hooker Stephen Moore, who played on the dreadful Murrayfield surface during the November Tests, Tweeted: "Great to see Murrayfield putting in new hybrid surface. Wouldn't have grazed sheep on it when we were there in November. Iconic stadium."