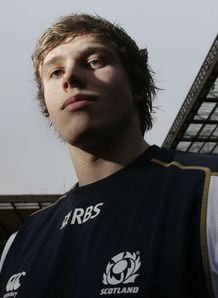 Related links
Teams
New Scotland lock Jonny Gray has spoken of his delight at being called up to the squad alongside his brother, Richie.
The 19-year-old Glasgow Warriors second row received his first call-up on Tuesday as one of five new caps, along with Chris Fusaro, Mark Bennett, Blair Cowan and Kieran Low.
Gray's elder brother Richie is now based in France with Top 14 champions Castres, having risen through the ranks at Glasgow and gone on to play for Sale, Scotland and the British and Irish Lions.
Now following in Richie's footsteps, Gray is thrilled by the prospect of perhaps playing alongside his brother for his country after an impressive start to the season.
"Playing for Scotland is all you think about when you are younger and hopefully that will come and hopefully I will follow in [Richie's] footsteps," said Gray.
"People have said to me it will maybe be you and your brother one day and you laugh it off and say 'maybe' but you never think it will be true.
"Obviously I am delighted but I know I have a lot of work before I get there. [Richie] has always been a role model.
"When you look at what he has achieved in his career so far, it is what any player wants to do.
"This is an opportunity to train with him. I have not seen him for a while with him being in France and being with the Lions.
"So it will be good to be with him and I am really excited about it."