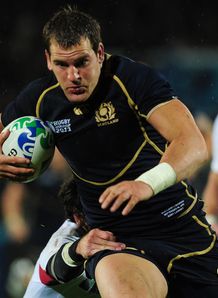 Related links
Teams
Also see
Scottish Rugby have announced that they will look into claims made by former international Rory Lamont that players are being forced to play while injured.
Lamont has been vocal in his criticism of the International Rugby Board protocols surrounding concussion, saying that the situation is a "ticking time-bomb", and has also viewed his belief that injuries are being poorly treated or ignored completely to ensure that players are available for selection.
The 30-year-old, who was forced to retire in March after failing to fully recover after breaking his leg against France last February, revealed two examples from his own career where he felt he was forced into making poor medical decisions.
Ahead of a 2010 Test against New Zealand, Lamont says that he was carrying a hamstring injury but played in the match anyway due to perceived pressure.
"I didn't feel that I could withdraw myself from that match," he explained.
"I was unsure if I was going to be able to make it through the game. I felt that I didn't really have a choice if I wanted to keep on trying to be picked for Scotland and keep a good relationship with the coaches."
It wasn't only while on international duty that Lamont believed his injuries were mistreated.
"I spent a whole season with a broken scaphoid when I was at Toulon and I was refused to get a scan on it," he added.
"They just kept playing it down as something insignificant, whereas effectively I was running the risk of arthritis in later life by not having it fixed."
Scottish Rugby chief executive Mark Dodson has expressed surprise at the revelations and says that they will be investigated.
"We're right at the cutting edge of medical care and we mean to stay in that position," said Dodson.
"We have a world-leading medical team led by Doctor James Robson, who is respected throughout the world and who's a British Lions doctor.
'"I'll have a look at it and I'm sure James will.
"We look after our players extremely well and ensure these people are fit, looked after properly and only reintroduced to the field when they're fit enough to do so.
"Moreover, we're talking to the RIB at the moment about concussion protocols that exist and the experiment that's taking place."