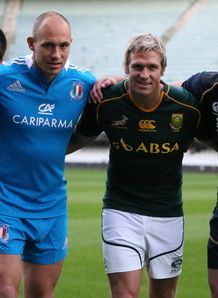 Related links
Teams
Scotland have the ideal opportunity to build on their strong performance in the Six Nations during their tour of South Africa according to captain Kelly Brown.
Scotland face Samoa in Durban on Saturday in the first match of a quadrangular tournament which also includes Italy and the Scots are desperate to show that third place in the Six Nations was no fluke.
"I'm absolutely desperate to show that finishing third in the Six Nations was the start of something special," said Brown.
"We have looked at a lot of footage of Samoa and see they are incredibly physical, so we need to go out and impose ourselves on them - we have some big, strong guys as well.
"We need to get stuck in and make sure we stop them on the gain line so that when we have the ball we can play our game.
"I played against them in Aberdeen two years ago when we won with the last kick of the match. So we know it is going to be tough and it is going to be tight, but it is the sort of test we really want and we will see, as a side, how much we managed to grow through the Six Nations.
"During the Six Nations, I felt we really improved as we went on. Now it is a case of making sure that we keep on improving."