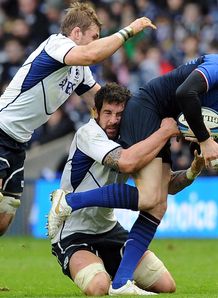 Related links
Teams
New Scotland defence coach Matt Taylor faces the ominous task of taking on the All Blacks on Sunday - but is ready for the challenge ahead.
The former mastermind of the Reds defence in Australia, Taylor joined Scotland in the northern off-season, replacing Graham Steadman.
Starting his new job by taking on the world champions doesn't get much harder, but Taylor has spoken of the excitement in the Scotland camp about testing themselves against "the best in the world."
"You've got to look at it as a positive. They're the best team in the world and everyone's got a huge amount of respect for them," said Taylor.
"As coaches and players you want to be tested against the best. It's a really great opportunity.
"We've tried to focus a lot on ourselves, things that we can control - our work-rate, our attitude.
"They're the best team in the world in attack, so we've got to do the basics well in defence.
"We've got to tackle well and we've got to contest well. It's easier said than done."
Taylor has tasted victory against many of the All Black players before, including Dan Carter and Richie McCaw, after the Reds won the Super Rugby title in 2011. With that success in mind, Taylor insists that Scotland will have to be careful in possession and kick wisely.
"The All Blacks are the best in the world at scoring from turnovers and scoring from kick-return," Taylor stated.
"They use their defence to attack you, then turn you over and score tries.
"Defensively you've got to be very good, but you've got to be very good on your own ball. If you're not, you'll come unstuck and they will punish you.
"You can't kick loosely to them and you've got to tackle and do the basics of defence well."