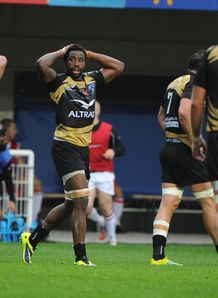 Related links
Teams
Also see
Montpellier and France flanker Fulgence Ouedraogo has revealed he only had two weeks rest between seasons this year.
Ouedraogo was part of the French squad that were hammered by Australia in the 3-0 series defeat, before returning to training with Montpellier after only 14 days off.
"The break between the France tour and the start of training was very short. I could only really stop for two weeks. Last week I had to train," Ouedraogo told Rugbyrama.
"Physically I'm ok, but we'll have to find out if the rest will be sufficient to last for the entire season. Tuesday was my first training session.
"Some of the new players have arrived but not everyone is in camp yet. It's a group that knows each other well, so the atmosphere is good. The new players can be integrated over the next three weeks of training. We're still in a period of discovery but it feels like the group is in a good place."
When asked if he was looking forward to the new season getting underway, Ouedraogo was honest in admitting that he wishes there was more time between campaigns.
"No, not necessarily! I want to have a good pre-season. We start up again on August 16, so it happens very quickly. It takes time to get physically ready for another season but there's also the work on the ground, the technicalities, required in order to win the title," added Ouedraogo.
"We saw last year, that all the points are expensive. I would have preferred for the season to start later!"
Montpellier suffered a crushing loss to Toulon in extra-time in last year's Top 14 semi-final.
It's a defeat that while highly damaging, Ouedraogo believes his squad can learn from it moving forward.
Pointing to the impact of Montpellier's new recruits, including former Australia captain Ben Mowen along with Benjamin Fall, Akapusi Qera, Samisoni Viriviri and Tom Donnelly, he hopes the incoming players will help push the club forward.
"We don't discuss it, but for the players who were involved it's always present on the mind," stated Ouedraogo.
"It's a loss that scars us, despite everything. I don't think we should forget about it.
"Instead, we have to use it to grow and progress. And bringing in new players can help us follow that path."