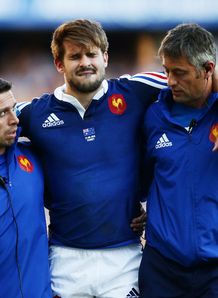 Related links
Teams
France and Stade Franšais back Hugo Bonneval suffered a major cruciate ligament injury in the third Test defeat to Australia.
The diagnosis showed that Bonneval ruptured the ligaments in his left knee.
Bonneval is subsequently not expected to return to action for quite some time, with the results pointing to a seven-month recovery period.
The 23-year-old therefore could be back in late January next year, ruling him out of the November Tests and putting his participation in the Six Nations in doubt.
Discussing his surgery to L'Equipe, Bonneval added that doctors wanted to wait a week or more before carrying out the operation.
"Maybe on July 2, but the doctors told me it would be better to wait a little longer. Possibly not until July 20."