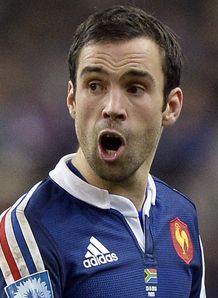 Related links
Teams
Also see
France coach Philippe Saint-André has named a 30-man squad to prepare for the Six Nations clash with Scotland on March 8.
Clermont scrum-half Morgan Parra, Castres centre Remi Lamerat, Stade Français prop Rabah Slimani and Castres loose forward Antonie Claassen have been added to the squad.
Out go Toulouse loose fowards Yannick Nyanga and Louis Picamoles, Castres flank Ibrahim Diarra, Racing Metro wing Marc Andreu and Clermont centre Wesley Fofana.
Nyanga and Fofana are injury casualties following the defeat to Wales in Cardiff.
Picamoles has however been dropped for his apparent lack of respect towards referee Alain Rolland following his sarcastic clap as he walked from the field after being shown a yellow card at the Millennium Stadium.
"After this defeat, we made some changes to compensate for injuries and perceived shortcomings in the Cardiff match," said Saint-André.
"But also in reaction to certain attitudes on the ground vis-à-vis the match officials that have have no place in our sport.
"Respect is the foundation of our values. It is important to send a signal to all players and remind them having the privilege of wearing the jersey adorned with the cock imposes duties and obligations.
"This group is doing well, but it must also be aware of the level expected and the necessary commitment to everything we do on the field in order to progress together. "
France squad:
Forwards (17): Vincent Debaty (Clermont) Thomas Domingo (Clermont), Yannick Forestier (Castres), Brice Mach (Castres), Dimitri Szarzewski (Racing-Métro 92), Nicolas Mas (Montpellier), Rabah Slimani (Stade Français), Alexandre Flanquart (Stade Français), Yoann Maestri (Stade Toulousain), Pascal Papé (Stade Français), Sébastien Vaahamahina (Perpignan), Virgile Bruni (Toulon), Alexandre Lapandry (Clermont), Wenceslas Lauret(Racing-Métro 92), Bernard le Roux (Racing-Métro 92), Damien Chouly (Clermont), Antonie Claassen (Castres)
Backs (13): Jean-Marc Doussain (Stade Toulousain), Maxime Machenaud (Racing-Métro 92), Morgan Parra(Clermont), Jules Plisson (Stade Français), Rémi Talès (Stade Français), Mathieu Bastareaud (Toulon), Gaël Fickou (Stade Toulousain), Remi Lamerat (Castres), Maxime Mermoz (Toulon), Yoann Huget (Stade Toulousain), Maxime Médard (Toulouse), Hugo Bonneval (Stade Français), Brice Dulin (Castres).