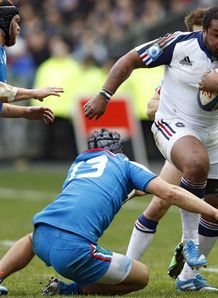 Related links
Teams
Toulon president Mourad Boudjellal has given coach Bernard Laporte assurance that Mathieu Bastareaud will be available to play on Saturday.
France are keen for their internationals, who have played in back-to-back Six Nations games over the past few weeks, to be rested this weekend.
But it seems Boudjellal has other ideas ahead of their Top 14 home clash with champions Castres.
"Bernard Laporte asked me the question (over Bastareaud being available or not)," he told AFP.
"I replied that as owner of Toulon and that I pay the wages of Mathieu Bastareaud was available for selection for the match.
"There are people such as the president of the Federation or the coach of the French team that take decisions that mean others lose out.
"If we lose against Castres, we seriously risk missing out on top level European competition next season."