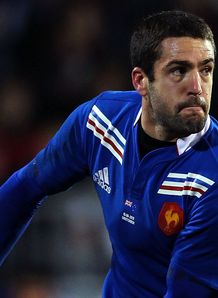 Related links
Teams
Also see
France coach Philippe Saint-André has named a 30-man squad to prepare for their clash against Wales in Round Three of the Six Nations.
Clermont loose forward Alexandre Lapandry is added to the group while fly-half Rémi Talès returns from injury at the expense of François Trinh-Duc.
Montpellier playmaker Trinh-Duc was a late addition to squad ahead of the first game against England after Talès was forced to withdraw.
The biggest absentee is Clermont's Morgan Parra, who is ignored despite scoring 25 points against Stade Français over the weekend while incumbent scrum-half Jean-Marc Doussain has been disappointing.
24-year-old Lapandry has been in sterling form for Clermont. He last won a Test cap in Argentina in June 2012
Stade Français pop Rabah Slimani's place in the group is under threat having been shown a red card against Italy. It remains to be seen if he will face further sanction.
Castres full-back Geoffrey Palis has been dropped without having played a game.
France squad:
Forwards: Thomas Domingo (Clermont), Yannick Forestier (Castres), Benjamin Kayser (Clermont), Dimitri Szarzewski (Racing-Métro 92), Nicolas Mas (Montpellier), Rabah Slimani (Stade Français), Alexandre Flanquart (Stade Français), Yoann Maestri (Stade Toulousain), Pascal Papé (Stade Français), Sébastien Vaahamahina (Perpignan), Virgile Bruni (Toulon), Ibrahim Diarra (Castres), Alexandre Lapandry (Clermont), Bernard Le Roux (Racing-Métro 92), Yannick Nyanga (Stade Toulousain), Damien Chouly (Clermont), Louis Picamoles (Stade Toulousain)
Backs: Jean-Marc Doussain (Stade Toulousain), Maxime Machenaud (Racing-Métro 92), Jules Plisson (Stade Français), Rémi Talès (Stade Français), Mathieu Bastareaud (Toulon), Gaël Fickou (Stade Toulousain), Wesley Fofana (Clermont), Yoann Huget (Stade Toulousain), Maxime Médard (Toulouse), Hugo Bonneval (Stade Français), Brice Dulin (Castres).