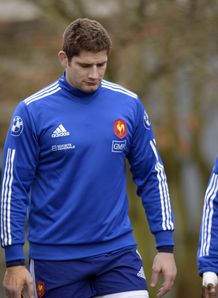 Related links
Teams
Also see
France captain Pascal Papé has warned that victory should not be taken for granted against Italy in their Six Nations match on Sunday, adding the Azzurri are a top-class outfit.
The 33-year-old lock - who is captaining France in the absence of the injured Thierry Dusautoir - said it was also important for France to build on their thrilling 26-24 opening win over England last Saturday.
"We know the Italy team has loads of experience, is physically very strong, with a lot of rugby under their belts," said Papé, who will win his 51st cap.
"They are a top class outfit, we are very wary of this team."
Papé, who also stood in for Dusautoir as captain in last year's Six Nations but ended up being laid low after the first game with Italy (the Italians won 23-18) with a back injury, called on his team-mates to put in the same application and hard work they had done last week against the English.
"We are really keen to build on the win against England," said Papé, who added it was not a case of seeking revenge for last year's defeat in Rome.
Papé said nothing should be read into him leaving training early last Wednesday.
"Sometimes you are not 100 percent and it is better to stop training and that is why I decided to go off 10 minutes before it finished," said Papé, whose career has been bedevilled by injury.
"I just had a problem recuperating from the England match," added the Stade Français second row forward, without specifying what the exact problem was.
Papé, who will be partnered by Yoann Maestri on Sunday as his partner for the England game, the less experienced Alexandre Flanquart, has been dropped, was fulsome in his praise for his Stade Français team-mate and Italy captain Sergio Parisse, who along with prop Martin Castrogiovanni will equal the national record of 103 caps held by the now retired Andrea Lo Cicero.
"Sergio, is the Italian leader, maybe even their playmaker," said Papé.
"He is also maybe the best number eight in the world along with New Zealand's Kieran Read."
Parisse for his part said that he believed France will have been liberated by the crucial win over England.
"Of course the French players will remember our game last year, but I think having beaten the English when they were under so much pressure coming into the game will have done their morale and confidence wonders," said Parisse.
"They respect us and know what we are capable of but they will try and impose their rhythm on the game from the start and it will be a huge match."