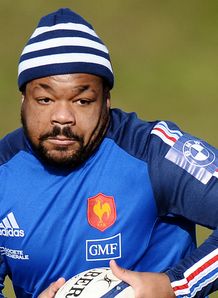 Related links
Teams
France centre Mathieu Bastareaud is willing to apologise for lying about being assaulted in Wellington during les Bleus' 2009 tour to New Zealand.
Bastareaud arrived in Auckland on Tuesday as part of an additional group of France's players who played in last weekend's Top 14 final between Toulon and Castres.
The 25-year-old centre was in a conciliatory mood, saying he was willing to issue another formal apology to Wellington and New Zealanders.
"I think yes...I will speak to my coach if we can do something like this, after I will see," Bastareaud told New Zealand's ONE Sport.
Bastareaud hit the headlines in 2009 when he alleged he was assaulted by a group of men when he returned to his hotel after a night out following a Test in Wellington.
Police investigated his claims and later looked at video footage of Bastareaud returning unharmed to his hotel, proving the assault did not happen.
He subsequently admitted that the assault did not occur and that he received his injuries after tripping over a bedside table in his hotel room while being drunk.
"Yes a little bit embarrassed ..but it's like this, it's the past ... I look forward," Bastareaud said when asked how he feels about the incident four years later.