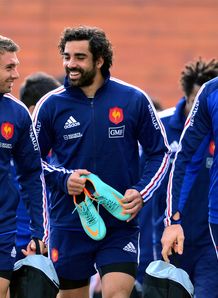 Related links
Teams
Also see
Les Bleus winger Yoann Huget has spoken of his new approach to playing rugby, which has seen him replace nervousness with fun on the field.
The 25-year-old Toulouse player, who sat out four months of the game after being hit with a ban for failing to notify the France's anti-doping agency of his whereabouts on three occasions, has been in sound form for his new club side since making the switch from Bayonne in the off-season.
And the man capped nine times is expected to start this weekend for his country in their game against Australia, with a new frame of mind.
"My approach has changed after suspension. I approach matches differently, with much more fun," he told l'Equipe.
"I feel privileged whenever I play and I enjoy every moment because I know it can stop at any time. This has become my philosophy since my return."
Huget's return to Toulouse has been a successful one and he admits that the ever-changing coaching roster at Bayonne did impact on his and the team's form.
"When you are part of a team like Toulouse you really trust the coaches," he added.
"Last year, in Bayonne, the situation was difficult because of changes of coaches and my suspension. 2011 was a difficult year in sport and for me personally."