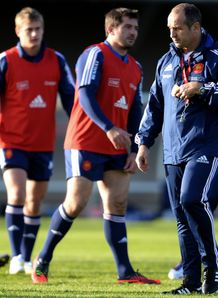 Related links
Teams
France coach Philippe Saint-André said on Monday he was looking for new leaders to emerge in his team for their opening November Test against Australia on Saturday.
The French were runners-up to New Zealand in the World Cup last year under former coach Marc Lièvremont, but had a disappointing Six Nations in which they could only manage fourth place.
Since then, Saint-André has switched his focus to preparing for the next World Cup which will be hosted by England in 2015 but must do so without injured skipper Thierry Dusautoir.
"For the last six or seven years guys like (William) Servat, (Lionel) Nallet, (Sebastien) Chabal, Imanol (Harinordoquy), Julien Bonnaire, (Dimitri) Yachvili, (Aurelien) Rougerie were the bosses," he said.
"Some of them have now retired, others are in the garage for repairs, so we have a transition period. We are aware of that and it's all the more interesting for that.
"On Saturday we are going to need soldiers, but we are also going to need leaders on the field."
Asked who he and assistant coaches Yannick Bru and Patrice Lagisquet saw as capable of providing such leadership, Saint-André would only say that they had some players in mind, but would only be able to tell come Saturday.
"It's up to us to show confidence in certain players," he added citing the case of hooker Dimitri Szarzewski: "With William (Servat) no longer there, it's up to him to show leadership."
Saint-André also said that he had a good idea of who would play at scrum-half against the Australians in the Stade de France.
In the running are Morgan Parra, Maxime Machenaud and Frederic Michalak, who can both play at either scrum-half or at fly-half, with Francois Trinh-Duc likely to wear the number 10 shirt.
"I have a half-back partnership in mind, but we have two more days to work at it before announcing the team."