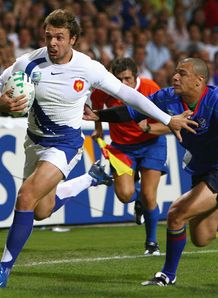 Related links
Teams
After over a week of frowns, France coach Bernard Laporte faced the press with a smile on his face following his side's 87-10 victory over Namibia in Toulouse on Sunday evening.
The 13-try hammering will give Les Bleus some vital momentum ahead of Friday's crucial clash with Ireland, and Laporte was quick to praise his troops for bouncing back from their lacklustre 17-12 loss to Argentina in the opening game of the tournament.
"I believe we have rediscovered the pleasure of playing," he said.
"We played rugby, okay I am not saying in relaxed mode, but with enthusiasm and the pleasure we demanded from the players.
"Unfortunately we had a few scars as a result of the Argentina game.
"Since that Friday, we thought the memory of that result might cause us problems.
"But we were committed and brave. We showed the spirit necessary to pick ourselves up.
"When bad things happen, we have to keep playing our best to revive our honour. We had to drive our World Cup forward in this match.
"If we hadn't done this, we could have found ourselves in trouble. We respect the Namibians. They didn't pose us too many problems though.
"The team as a whole played very well, especially in the last 20 minutes. We scored many tries. We played to our strengths."
Namibia lost Jacques Nieuwenhuis to a red card for a high tackle on Sébastien Chabal in the first quarter of the game, and Laporte admitted that the sending-off had helped.
"We had five good minutes early on and the red card followed quickly afterwards which helped us in our task but the overall impression is satisfying," he said.
France stand-in skipper Jean-Baptiste Elissalde, who collected the official man-of-the-match award, believes the performance was a result of a week's pent-up emotion.
"The Argentina match really affected us as it questioned our ability," said the Toulouse scrum-half.
"We achieved many things this week, trained very well and yesterday's session affected us deeply.
"We started positively tonight. We were distracted at times and did make errors along the way.
"We can't draw too many conclusions from this match because the opposition were mainly amateurs."