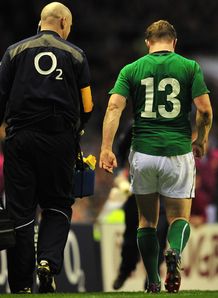 Related links
Teams
Ireland head coach Joe Schmidt is hopeful that Brian O'Driscoll's calf cramp will not be anything more serious before facing Italy.
O'Driscoll departed to a rousing reception on his 139th record-equalling cap at Twickenham in Ireland's 10-13 loss.
"It was his calf cramping up, so we're pretty hopeful that it will be nothing more than that," said Schmidt.
"We'll get that assessed in the next 48 hours and have an update on Tuesday."
Schmidt spoke of how despite Ireland playing positively in many errors at Twickenham, those bright spots were no compensation for losing their first match of this year's Championship.
"It doesn't make it any easier that a lot of things went right today. We're pretty gutted, because we play in this arena to get victories and unfortunately sometimes the result eludes you," added Schmidt.
"This is a very good England team. They're heading in the right direction and we need to scramble in that direction too to remain competitive.
"There were a few bits of our kicking game that didn't go as accurately as we would have liked. I thought our scrum was very good, we were probably a little unlucky there at times because we really dominated. Our maul was good, we put together some really good phases on the advantage line.
"So those elements are good, but at the same time I felt we were too loose with the ball at times, with some of the turnovers. There was a lot of angled entry at the ruck and we need to learn to cope with that in order to protect our own ball and put pressure on our opponents.
"We now just have to put ourselves in the best position to face Italy. You saw what happened to Wales [in Round One] with ten minutes to go in the game and Italy will be devastated by the late loss today. That makes them more formidable in two weeks time.
"Unfortunately we tripped up today but we need to make sure that next step is as secure as it can be."
Schmidt also reserved praise for England full-back Mike Brown, who scooped the Man of the Match award following yet another impressive performance.
"I thought he was very very good. He did two saves behind the line, including the goalkeeper one - it could have bounced anywhere and you felt that the ball didn't quite bounce our way today," stated Schmidt.
"Those are the breaks [for England's try] that come or go in tight games like that. At the end [Brown] also cleared a superb kick and he was very much the complete package today."
by Ben Coles at Twickenham
@bencoles_