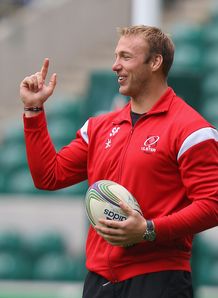 Related links
Teams
Also see
Ulster and Ireland flanker Stephen Ferris continues to make progress but there is no set time for his return to action.
The 28-year-old former British and Irish Lion has not played since November 2012 due to long-term shoulder and ankle injuries.
Following the latest surgery on his ankle during the off-season Ferris has continued his rehabilitation, leading to Ulster offering him a new short-term contract which is expected to be announced in the coming days.
Ulster head coach Mark Anscombe however remains cautious over adding a fixed date for Ferris to return, refusing to add the pressure of a deadline.
"The contract will obviously give Stephen a real chance to continue the hard work he has done already," Anscombe told the Belfast Newsletter.
"And he has trained hard. He has a smile on his face again and he has come through a hell of a lot in the past few months.
"But we are not putting any time frames on it. Deadlines can get you anxious and nervous and then people start to take short cuts.
"That is the last thing we want to do in Stephen's case.
"It's our job to encourage and support Stephen in the work he is doing and to give him hope and faith that something is around the corner without putting a deadline on it.