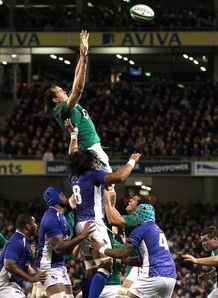 Related links
Teams
Ireland hooker Sean Cronin is backing his Leinster team-mate Devin Toner to form an effective partnership with Paul O'Connell.
Toner has been selected in the number four jersey for Ireland's clash with Australia this weekend in Dublin.
The 6ft 11 lock has been selected by new Ireland boss Joe Schmidt, with Cronin lauding Toner's form for the Challenge Cup champions at club level.
"Dev has been a rock in the Leinster pack this year and he has stepped up to the plate the last 18 months," said Cronin.
"It is fantastic for him, a huge opportunity. I thought he did well last week and it is great that he is getting another opportunity and Paulie is coming in next to him. I'm sure they can get a good relationship going."
Looking back on last weekend's five-try win over a weakened Samoan outfit, Cronin was pleased with Ireland's work upfront through their rolling maul and stated that the intensity brought to training by Schmidt was making an impact.
"I thought the lads did fantastic with the drive last week and really got us into the game," added Cronin.
"I think we were probably struggling a bit in the first half, trying to make inroads into the Samoan defence, so it was a good way of getting into the game.
"It was great to maul them over, (forwards coach) John Plumtree was delighted with it., so we are hoping for another one this weekend.
"When you break the line-out down to the throw, the lift and the jump, if you can all three aspects of that correct and everyone goes about their job efficiently, then we believe we have the capability to cause teams problems there.
"If everyone does their job then we have an opportunity to squeeze teams. Intensity is Joe's middle name really.
"He demands what he does from his players and training is no different. He is trying to bring that in, game speed, game decisions, that have to be made with the snap of a finger.
"So the sessions have been fairly intense but they've been enjoyable - short and sharp.
"It is great to see Joe (Schmidt) so up for it, he knows how to get his players going and he has the lads well primed for the weekend."