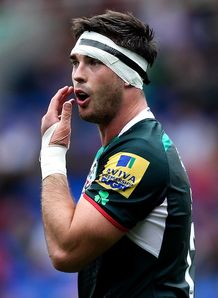 Related links
Teams
Former Ireland U20 centre Eamonn Sheridan has found his career reinvigorated by a move to London Irish.
The 24-year-old moved from Leinster to Championship side Rotherham Titans after his time in Dublin was blighted by injuries and illustrious midfield competition.
One year on from his bold move South, Sheridan admits he is loving life at his new side; having started all three of Irish's opening Premiership fixtures. Despite a narrow loss to Exeter Chiefs last week, the centre feels things are looking up for the Reading-based outfit.
"We've a great bunch of lads and the coaches are all really friendly as well, so it's a really close-knit club," Sheridan told The Score.
"Obviously, we would have liked to win last week but five points out of three games, it's not the worst start in the world. Everything's pretty upbeat at the moment and I'm getting games so far."
Sheridan is one of several Irishmen who have arrived at the Madjeski in the last few seasons with similar motives to his own, and regular first-team rugby high among their priorities. The likes of Tomás O'Leary, Ian Humphreys and Jamie Hagan all regularly feature in the Irish match-day squad.
"It does help. Obviously, I knew Jamie from before anyway but the rest of the Irish lads are great," added Sheridan.
"It's good to hear an Irish accent here and there when you're away from home. It was good to have a few mates here when I first arrived."
The centre has had his fair share of injury woes, including a broken leg and a serious knee injury, but choses to see the positives in career thus far rather than look back with anguish at time spent on the sidelines.
"When I did my knee, that was probably the worst, in the pre-season game against Northampton. I thought I had a good pre-season under my belt and it seemed to be going well. Obviously, I've put that behind me at this stage," added Sheridan.
"Even if things had gone differently, it might not have worked out as well for me as it did. I'm happy where I am now at my age, I can't complain. I'm doing what I want to do at a good club."
At international level, Ireland coach Joe Schmidt has handed Leicester Tigers outside back Niall Morris a call-up after some excellent domestic performances.
Not only does this prove the new boss' progressive selection policy, but it offers inspiration to the likes of Sheridan to emulate his young compatriot.
"It's great to see Niall doing so well. For guys like myself, it's good to see him getting selected. It means they're looking at the games over here and the door isn't closed for you," stated Sheridan.
"It kind of gives you a bit of a carrot I suppose to keep playing well. If luck goes your way, you might get selected."