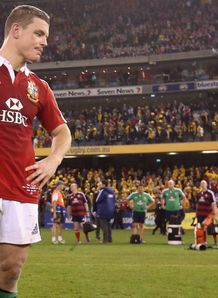 Related links
Teams
Former Ireland hooker Shane Byrne has publicly backed O'Driscoll's recent comments about being left out of the Lions final Test in Australia.
Warren Gatland controversially left the Irish legend out of the match day squad that downed Australia 41-16, handing the British and Irish Lions their first series victory in 16 years.
After some time to digest the victory and his omission from the squad, O'Driscoll has stated that he is still very upset about being left out by the Welsh coach.
"Do I resent him [Gatland]? Yeah there's resentment, of course. Is he on the Christmas card list? Unlikely," O'Driscoll told Sky Sports.
A former Irish team member, Shame Byrne has shown his support by saying that O'Driscoll has every reason to hold the decision against Gatland.
"It was very interesting to hear O'Driscoll's thoughts during the week," he told Full Contact.
"He was speaking very frankly and it's what most of Ireland believes.
"It was a decision that had nothing to do with rugby. All the attention would have been on Brian should they have won and I don't think Warren wanted that.
"So many things seem to have escaped him, lots of the 'final hurrahs' have never worked out and this is one he definitely feels very bitter about.
"Did he deserve to not be in the 22? No as far as I'm concerned, and I know a lot of people who felt that way."