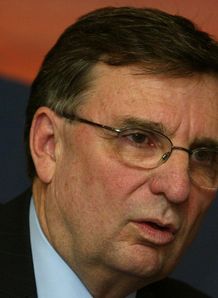 Related links
Teams
Former WRU chief executive David Moffett has finally persuaded the Welsh governing body to hold an extraordinary general meeting.
Moffett arrived back in Wales from a spell in New Zealand, taking aim at the WRU after bitter conflict arose in the domestic game, plunging Welsh rugby into a state of civil war.
Though the main focus of the meeting is to decide on a proposal to restructure club leagues in Wales, Moffett is likely to seek the resignation of key officials and win back a spot on the board.
"We are at the end of May and the clubs don't even know who they're playing next season," said Moffett.
"Clubs have found a voice and they're going to send a very strong message to the WRU.
"It's a sad day, not a day for rejoicing. The fact that the clubs have called an EGM is a wake-up call. The WRU will know it has to answer to the clubs. It's quite clear to me that the clubs have had enough.
"The single issue that has brought this to a head is the league structure. The WRU are like rabbits in the headlights. It will be held to account."
A WRU statement claimed the governing body "welcomed the opportunity to address the issues raised by the clubs through an open and well informed debate. The proposed league restructure appears to be the primary issue in the nomination letters. The WRU is determined to provide all the information the 43 member clubs require within the EGM forum."