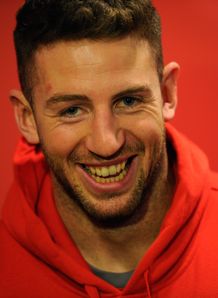 Related links
Teams
Also see
Wales wing Alex Cuthbert is looking forward to rugby's focus being on the pitch instead of off it when the Six Nations kicks-off next weekend.
The ongoing saga in rugby over the right route moving forward for both the Welsh Rugby Union and the four regions has marred recent news.
But with the national outfit having won the last two Six Nations, a Championship hat-trick is on the cards for Warren Gatland's men this March.
"If we win the Championship, I guess everyone will forget everything else," the Cardiff Blues finisher told Press Association Sport.
"Our prime target is to win the Six Nations again, but our concentration for now is just on the Italy game. I think a lot of people will just forget about what is going on with the regions and just getting on with supporting us through the Championship. That's what we want.
"Obviously it affects everyone, but everyone is just looking forward to getting together. It is a good environment and we just need to show that we don't need to worry about things on the outside. We need only worry about things that we can control.
"What we can control is how well we play, so that is what our aim is over the next few weeks. Whatever happens after the Six Nations we will have to work on then."
Wales are the pre-tournament favourites with the bookmakers and Cuthbert knows that because they are the holders, Wales will be targeted by their rivals throughout 2014.
"I guess we are the team that everyone wants to beat, everyone wants to stop us from winning it again," added Cuthbert.
"Every game is going to be like a World Cup final for a lot of the teams and every team is going to want to beat us and beat us up. They will try and put us off our stride, because obviously when we get into our stride, as we have shown over the last couple of years, we are a hard team to stop.
"But you enjoy being shot at because you want to be the best. So we look forward to teams coming down here and trying to beat us. We relish going there too and trying to beat these sides when they are at their best."