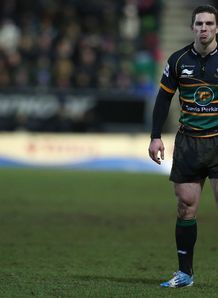 Related links
Teams
With the continued off-field chaos regarding the future of Welsh rugby and better money elsewhere, George North is happy to have left.
North moved to Northampton Saints from the Scarlets at the end of last season and has made a big impact in the Aviva Premiership and in Europe for his new side.
The 21-year-old admitted that the ongoing saga was frustrating to watch and that a solution was desperately needed in order to not damage the sport in Wales permanently.
"It's a difficult time. You've got a lot going on behind the scenes. The problem is the only thing that it will damage is our national game," North told the Telegraph.
"That's a bit of a shame. It's pretty disappointing they can't really sort out their differences to the benefit of the greater good. It needs to be sorted out pretty soon."
When asked if more players would leave Wales because of the ongoing dispute and lack of financial firepower, North conceded that higher offers were difficult to turn down.
"It's difficult because there's nothing really to stay [in Wales] for," added North.
"It's all good playing for the club and stuff and having respect but when it comes down to it it's a short career.
"It's like anything, if you're getting paid X, Y, Z times more away it's difficult to turn that down when you're one injury away from not playing again.
"[Moving to Northampton] has taken a massive weight off my mind. As soon as I knew what I was doing and started it out, I could be a bit more chilled and get back to the rugby side of things.
"When you've got stuff going on like there is, it's very difficult to focus on day to day grind when you don't know where you'll be next year or what's going on."