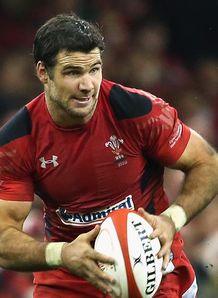 Related links
Teams
Also see
British and Irish Lions and Wales scrum-half Mike Phillips has insisted he does not have a drinking problem.
And that is a view shared by his coaches and team-mates at new club Racing-Metro.
Phillips has been involved in several alcohol-related incidents during his career, culminating in being fired at the end of October by his previous club Bayonne for allegedly turning up drunk to a video training session - a charge he denies.
But while his fellow offenders, New Zealander pair Dwayne Haare and Stephen Brett were merely fined by the Basques, Phillips was fired.
However, it was not the first time he had been in hot water with Bayonne having also been briefly suspended last year for an off-field indiscretion.
He was also hospitalised in 2008 after an incident outside a nightclub in Cardiff and was suspended from the 2011 Welsh World Cup squad when he was involved in a fight with a nightclub bouncer, also in Cardiff.
Yet Phillips was unrepentant at his official unveiling as a Racing player on Thursday.
"I had no issues with alcohol (at Bayonne)," the 31-year-old said.
He does at least have the backing of new coach Laurent Labit, who suggested the whole incident has been blown out of proportion.
"In rugby we've also had lots of players... at Castres we dealt with players with outside issues," said Labit.
"In all teams they celebrate wins if they win and I think that day Bayonne won. Everyone knows what happened at Bayonne but that happens at all clubs."
If his new coach is sympathetic to Phillips's plight, his new team-mates can even see the funny side.
France scrum-half Maxime Machenaud said he was not only looking forward to the added competition of Phillips's arrival, but also to enjoying some down time with the Welshman.
"I hope we'll go and drink a beer together on Saturday after a victory (over Harlequins) in the European Cup," joked Machenaud.
"And if we need to drink more than one, we'll do so," he added before quickly correcting himself.
"Actually, there's still another important match to play afterwards (a week later away to Quins) so we'll keep it to just the one beer."