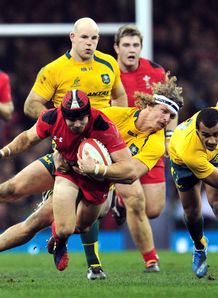 Related links
Teams
One fan who saw his £30,000 gamble on Wales beating the Wallabies come to nothing in Cardiff on Saturday insisted he didn't have any regrets.
Roofing contractor Steve Richards, of Pontypridd, recently won £38,970 (46,937 euros, $63,800) after correctly predicting 12 soccer matches.
He then chose to put a large stake on Wales to finally overcome their losing streak against Australia, only keeping £8,000 of his winnings.
Richards would have pocketed £55,000 in total had Wales won, but the result didn't come in.
"It was a bit of bad luck losing the bet but I'm still almost £9,000 better off than I was when I started. I don't know how anybody could be disappointed with £9,000," he told Wales on Sunday.
"I don't regret putting the bet on because I had fun and felt relatively calm throughout the game.
"My business is doing well at the moment and to be honest I don't see that £30,000 as mine anyway as I won it, so I haven't really lost anything.
"At the end of the day I gamble because it's fun and I'm very relaxed about it. Health is what's really important to me."