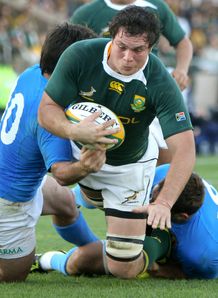 Related links
Teams
Springbok loose forward Francois Louw is anticipating a tough battle at the breakdown when the Springboks take on Wales in Cardiff on Saturday.
Louw, who represents Bath in the English Premiership, cited a more lenient approach by match officials as the reason why he and his team mates would have to be far more accurate and vigilant at that phase of play.
"The breakdown is more of a contest over here, and it is allowed to be, particularly in the Premiership, where teams like to counter-ruck," said Louw.
"The breakdown is always a massive element as if you don't go well there it robs you of any kind of platform to work off on attack."
Louw nonetheless feels that the South Africans have what it takes to make a mental shift and went on to laud Scotsman Richie Gray who had been roped in to help the team at the tackle area.
"I wouldn't say that it requires different skills, but I think it is fair to say that in the past the northern hemisphere referees have allowed the breakdowns to develop a lot more than is the case in the southern hemisphere," added Louw.
"He (Gray) brings different philosophies to what we are used to in the approach to the breakdown and as a Scot he is very tuned into the way the guys over here approach that aspect of the game.
"What has been a big help I think for most of the guys in the Bok squad is the perspective he has brought into the way they play over here. He has worked out specific drills to develop the guys and all-round he has been a great addition to the management."
Reflecting on his team's performance at the breakdown throughout this season, Louw noted that there were many positives the Springboks would take from their Rugby Championship performances, but added that they are far from the finished product.
"I thought we started to make the correct decisions, particularly when it came to defence, when it is particularly crucial that you know when to commit to the breakdown and when not to," stated Louw.
"But I think there is still work to be done and we are going to have to sharpen up on that sphere of our game even more now that we are in the northern hemisphere."