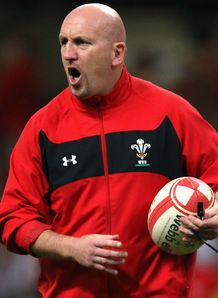 Related links
Teams
Wales defence coach Shaun Edwards believes Saturday's match against South Africa will reach the peak of physicality.
The Springboks have overcome plenty of gruelling tests so far in 2013, with Edwards admitting the Welsh squad had been working hard on their defensive skills in training.
"If you like your rugby as gladiatorial, then get a ticket for Saturday because this will be no place for the faint-hearted," Edwards told WalesOnline.
"We have to muscle up against these boys. We practice our tackling a lot but we certainly have been concentrating on that this week.
"South Africa are also a skillful team as well and they are not just based on power which they proved by scoring four tries against the All Blacks last time they played.
"They play with a lot of width as well so they have a lot of options. But we will definitely have to measure up their physicality."
Commenting on the Springboks' advantage of having already played nine Test matches this year, Edwards believes Wales are in good shape and is backing his side to be prepared enough to compete at the Millennium Stadium.
"Their guys have been together three months so everything is stacked in their favour," added Edwards.
"They are like a club team, like we are for Rugby World Cup every four years. That is not to say we don't think we can come up to speed quicker this time.
"I feel as if our preparation is better than it was before especially last year when we were ravaged by injuries.
"We are missing a couple of our strike players in Jamie Roberts and Alex Cuthbert who will be missed but we have a couple of players to come in.
"Everyone appears to have a spring in their step. We had a good week's training and the conditioners did a great job. So we have a bunch of highly motivated players going into this week."