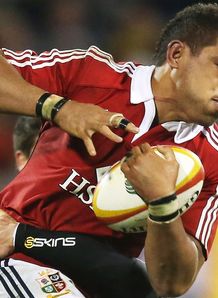 Related links
Teams
Also see
Dragons boss Lyn Jones has admitted to being unhappy with number eight Toby Faletau's condition following the recent British and Irish Lions tour.
Faletau, who started the third Test in Australia, was like the majority of the players allowed time off to recouperate ahead of the 2013/14 season.
However, coach Jones has said that his forward is not in the shape he would have liked him to be in as they approach Round Two of the PRO12.
"I think four weeks rest post-third Test would have been sufficient for Toby," he told walesonline.co.uk.
"For whatever reason, he had five weeks rest and I think it's just knocked him a little bit now.
"He's turning up and he's just not in the condition we were hoping he would be in.
"So he's got a bit of work to do on his conditioning, as well as his game, but that can be expected.
"When you've achieved and reached a height, you've got to celebrate it, but he needs to pull his socks up now and he knows he's got a bit of work ahead of him.
"I am sure he is going to rekindle and regain his form very quickly.
"He will be on the field at some stage against Edinburgh without a shadow of a doubt, whether he starts or comes on."
Faletau was not included in the 23 for the Dragons' opening fixture, a 15-8 win over Ulster, but has been named in an extended squad that will prepare for an away clash at Edinburgh.